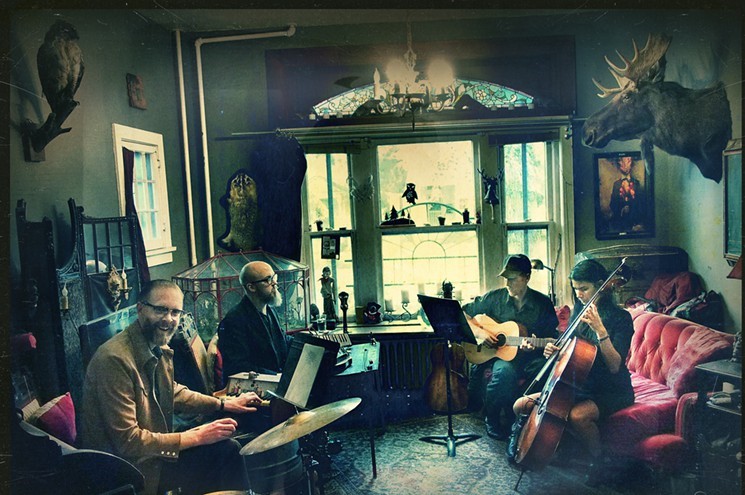 DBUK (originally called Denver Broncos UK) is a band from Denver, Colorado. You immediately think of the football team, Denver Broncos. DBUK vigorously denies any connection or reference to the NFL team. They just wanted the name to sound cool. Be as it may with the name. It's open for interpretation for those (like myself) interested in indulging themselves in these tiny matters. Maybe it's a coincidence, but there's a british fan club called Denver Broncos UK (!). DBUK (then Denver Broncos UK) was loosely formed in 2005 by Munly Munly (guitar and lead vocals), Slim Cessna (strings and percussion), Lord Dwight Pentacost (banjo, melodica, autoharp and more) as a side-project to Slim Cessna's Auto Club (SCAC) and Munly & the Lupercalians. Side-project isn't really an adequate term, since the three bands are equally important for the members. Rebecca Vera (cello, harmonium and backing vocals) joined DBUK in 2009. Denver is a highly incestious place. As mentioned in other articles most musicians in Denver play in at least one band, but often in three bands or more (everything else seems to be lack of either ambition or endurance). DBUK are, of course, part of the so called "Denver sound", of which you can read more about here (opens in a new window). Munly Munly, Slim Cessna, Lord Dwight Pentacost and Rebecca Vera (all four of them) play in Slim Cessna's Auto Club (SCAC) and in Munly & the Lupercalians. However, SCAC is the only band that tours on a regularly basis. This family of bands means many committments, but also a common schedule planner (if such a device should exist and be used in the genre). There are considerable economies of scale of three bands. For example, on December 30 and 31, 2015 all Three the bands SCAC, DBUK and Munly and & Lupercalians will play at Syntax Physic Opera in Denver. Splitting yourself into three bands is probably very artistic rewarding, but maybe this comes at a high price. Mathematically it lowers the velocity of circulation. SCAC has released five original albums in 22 years. This is not a startling high production rate. The members were earlier scattered geographically (Slim Cessna lived in Pittsburgh and Lord Dwight Pentacoast lived in Boston). Now, all are living in Denver again. The one and to date only Lupercalians-album "Petr & the Wulf" was released in 2010. The album was set out to be the first album in the series of "The Kinnery Of Lupercalia". Four more albums are planned. But plans are just plans in the "gothic country" world. DBUK made their first recordings on a four-track already in 2006. It took ten years to release a debut album. The pace new songs are written are slow, despite the acknowledged creativity within DBUK. The band is a stable but low-intense project, which for obvious reasons can't have the members full attention.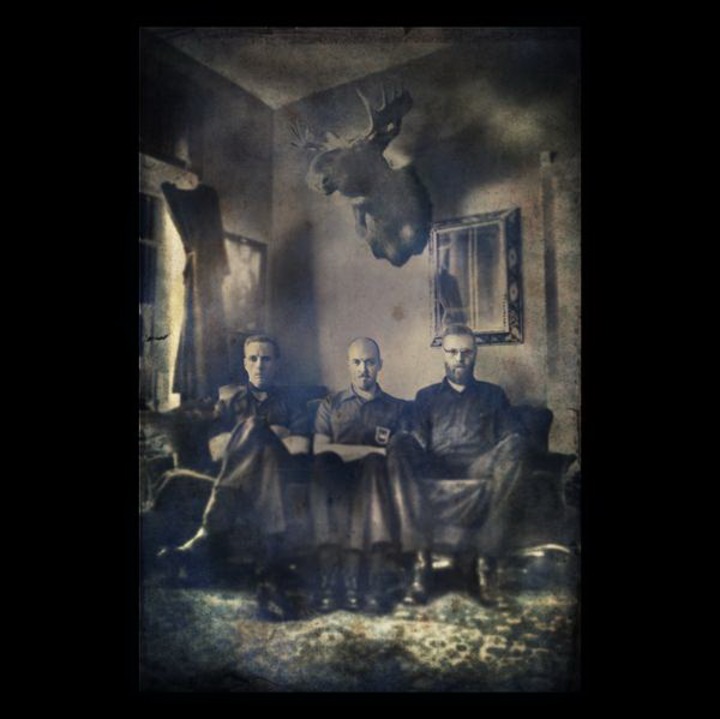 DBUK can be labeled "southern gothic", "gothic-country-punk-noir", "gothic folk", "gothic americana", "gothic country" and "acoustic-gloom". Musically, the sound is a distinct departure from SCAC's rambunctious-barnburning style and Munly & the Lupercalians somber-gothic sound. The sound is clearly more sub-dued, ethereal and intimate with a lot of strings and percussion reminiscing of an agrarian, pre-industrial time. DBUK also uses sparser instrumentation and restrained arrangements. This means that the lyrics becomes more highlighted. The music doesn't fit in everywhere. In the beginning DBUK (then Denver Broncos UK) mostly played on art museums and other non-traditional performance spaces. Slim Cessna and Munly Munly are the frontfigures in SCAC. In DBUK, more attention is directed towards Munly as the main songwriter and lead vocalist. In an interview for the blog Suspect Press Munly answers the question if it's easier to write songs now that Slim Cessna moved back to Denver: "You know, we don't work that way and we never have. I've never written a song with someone and I don't know if I'm capable of doing that. I don't feel like I'm saying I write the songs. I write the words and the basic music, but the songs are not written until everyone writes their own parts. We've all found what we're good at in the band — right now mine is writing, but our roles certainly might switch in the future." Simultaneously playing in three bands must be schizophrenic. Where does an idea begin and where does it end? Which band should release what, when and why? In the aforementioned interview Munly declares "I certainly hear them when I'm working on them. I know where everything's going as far as all three bands — Slim's in the Lupercalians as well. Everyone in all three of those bands is at least in the Auto Club. There's four Broncos, five of us are in the Lupercalians as well. We've worked with each other for so long." DBUK are sometimes elusive and can be hard to interview. In some few cases they can be incomprehensible, reticent or enigmatic depending on the situation or the mood. It's difficult to determine why. It's certainly not a megalomaniac approach or any contempt for the interviewer. Maybe it's just too much "been there, done that" after being in the music industry for so long and talked about their music so often. To my knowledge DBUK haven't got a mission statement, but on their MySpace page you can read the following description: "The sparse arrangements feature an array of instruments put to exotic use — guitar, autoharp, melodica, bowed banjo and numerous percussive instruments ... (and) haunted vocal harmonies. The sum of all parts reveals itself as a darkly lit celebration of traditional American music, forged into a surprising new form." In my opinion, a very apt description.

Munly got a dark lonesome (not to say high-lonesome) and unmistakable voice, placed somewhere between half-singing and half-mumbling. He is a brilliant songwriter and his lyrics are filled with vivid storytelling, often with a sardonic remark or ambiguity. For example in the gruesome song "Immaculately Warded Children":"I work at the orphanage for immaculately warded children / though none of them got good hearts / Each morning I pass through the doors with hidden hinges / Bringing color to each cheek with a pinch and soft smack /They cringe and cower at my approach / Some get kind of twitchy / It seems they envy me my good heart." It gets worse, believe me. Nevertheless you find yourself innocently humming: "I've got a good good heart / I've got a good good heart". DBUK is overflowing with talent and creativity. DBUK has released two albums, "Songs One Through Eight", released in 2015 and "Songs Nine Through Sixteen" in 2018. The two albums have also been released on a double cd album "Songs One Through Sixteen". Some of the songs on the first album were actually written almost ten years ago. The albuma are released on SCACUNINCORPORATED (their new and own label). The label also hosts Slim Cessna's Auto Club and Munly & the Lupercalians. The album artwork is tasteful and designed by Heather Reynolds. You can read my review of the first album here (opens in a new window) and of the second album here (opens in a new window).
| | | | |
| --- | --- | --- | --- |
| | | | |
Below is a suggestion for a CD compilation.
| | | |
| --- | --- | --- |
| No | Song | Album |
| 1 | Broncos Fight Song | Songs One Through Eight |
| 2 | The Columbia Girl | Songs One Through Eight |
| 3 | Uncle John's Boat | Songs One Through Eight |
| 4 | Immaculately Warded Children | Songs One Through Eight |
| 5 | I Hid & Seeked The Funnel | Songs One Through Eight |
| 6 | From The Estate Of John Denver | Songs Nine Through Sixteen |
| 7 | In San Francisco Bay | Songs Nine Through Sixteen |
| 8 | Coca-Colanialism | Songs Nine Through Sixteen |
Best album: Songs One Through Eight
Best songs: Broncos Fight Song, Immaculately Warded Children, From The Estate Of John Denver