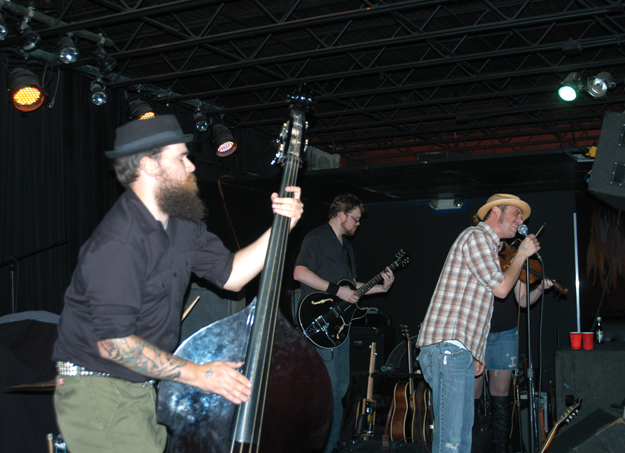 Strawfoot is a band from St. Louis, Missouri. The band was formed in 2004. The founder is named Marcus Eder. It all began as a studio project, but developed further into a band. The story behind the name is intriguing. The better known 16 Horsepower has a song called "Strawfoot" and it was through this song the band came in contact with the term. The name comes from an old soldier song from the American Civil War era. The soldiers could not distinguish right from left so the officers bind (hay) on the soldier's left foot and (straw) on the right foot. They could then march: "Hay-foot, straw-foot, hay-foot, straw-foot". New recruits were also called "strawfoot". The name is also a metaphor for marching forward in life, rather than cowering away. Marcus Eder is allegedly a distant relative of Mark Twain and also a (real) reverend with license to marry and bury. He is also a man with strong opinions of the state of nation. In an interview for the readable website Swamplandzine (whose motto is "A creative sanctuary for those who refuse to give in to the devils of convention") he declares: "Back then it was just music. Country was that horrible crap Nashville keeps pumping out. But now I know. That's not country. It's not true. It's pop. It's image. I liken it to fast food; It looks good, it's easily obtainable, and to some it might even taste good, but sooner or later you're going to crap it out and see it for what it really is: excrement." How vivid and true. The band consists of Marcus Eder (mandolin and vocals), Steve Simmons (guitar), Brian Bauer (banjo and vocals), Wesley Jones (upright bass), Mississippi Nate (harmonica), Jennifer Kube (fiddle) and John Joern (drums). Marcus Eder called himself "Reverend" Marcus, the band - "The Congregation" and the members were often called "Brother" or "Sister" followed by the first name. After two solid albums things looked pretty good for the band. The band had started to work on a third album (with the working title "Swansong") in the same line as earlier albums. In 2010, the band suddenly disbanded and regrouped again (unclear lineup) and radically changed their musical direction. According to information on the Internet, they left their dark bluegrass roots and moved towards "gypsy swing", but still aggressive. I was rather skeptical about the new direction. They sounded namely perfect "gothic americana" on their first two albums. Marcus Eder had great ambitions for the band and the new musical direction, which he perceived to be more honest. The new Strawfoot lineup began to write on a new album (with the working title "1000 Tragedies"). Only a few songs from work-in-progress Swansongs survived, the rest of the songs were rejected and fell into home recordings and folklore. Marcus Eder was optimistic and thought that the album had potential to be something very, very special. However, the release dragged on and was delayed.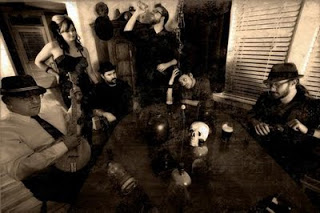 However, this was just a sign of the beginning of the end. On February 11 2014 Marcus Eder announced on his FB-page that the band called it quits. He writes so personal, emotional and well so I choose to quote it in its entirety: "I knew I'd write this eventually, though it has never been a statement I have looked forward to writing. Music has been a very important part of my life for a very long time. I never did it to be a star, I did it because I loved it. Over the course of ten years, we've grown, evolved, changed members time and time again…we moved beyond a simple band and became a part of something else, something bigger, never losing sight of the music we were making, never trying to be anything but true. We have shared the stage and many a drink with some of the finest musicians I've ever had the pleasure of knowing, both locally and regionally. In every incarnation and iteration, we were a family, all the way up to the very, very bitter end. Yes, end. It is with a heavy heart but a soul full of wonderful memories that I must announce Strawfoot, is no more. We will treasure you as fans and friends for the rest of our lives, I will especially. The music we made was merely a reflection of us, and you. Our lives, the lives we all live. Do not mourn our end, please. Celebrate what we made. Maybe listen to it from time to time. And remember we wouldn't have been us, had there not been a you. I love you all more than I may ever properly express. --Rev. Dapper King (Marcus)" A very dignified end, indeed.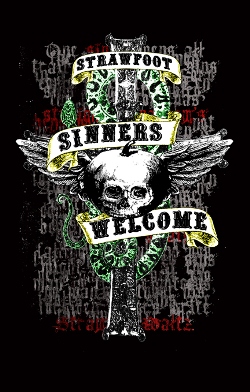 Strawfoot have thus released two albums "Chasing Locusts" (2007) and "How We Prospered" (2009). The sound on the first album has been described as: "a sound steeped in the dark history of America and beyond. Haunting, cautionary tales of outlaw scarecrows, wayward preachers, falling pianos and the devil soothe yer weary ears and save yer wretched souls". There's an extremely minimalistic version of "Wayfarin Stranger" on the album, which even makes 16 Horsepower's restrained version appear somewhat over-produced. The second album has been described as: "an album full of rusty shovels, broken crowns, chain shaking, angry forefathers, invisible men, crooked necks, self destruction and the black plague, among other things". And this is a fairly accurate description. The music is a mixture of 16 Horsepower and The Pogues (if it's possible to imagine that). The music has elements of burlesque cabaret music and - lo and behold – so-called pub-rock. Banjo, mandolin and fiddle have prominent places in the music. The lyrics have a lot of religious references. In the Swamplandzine interview Marcus Eder explains: "Our lyrics often paint an ominous portrait of the world in which we live. Songs of damnation and murder, temptation and what-not. But we're not so singular that we can't light a fire under folks' britches." Both albums are self-released. They are out of print and extremely hard to find. I have been searching for them with a combination of determination, endurance and luck. Eventually I managed to get hold of both albums. I found "Chasing Locusts" on U.S. Amazon in used condition by chance. Finding "How We Prospered" was really, really hard. I had, figuratively speaking, vacuumed the Internet on a daily basis for over a year. In the end, I found the album at Vintage Vinyl in St. Louis, Missouri (where else?) Strawfoot is represented with a song (Damnation Way) on one (Rodentia I) of the four compilations with The Best of Dark Roots from Devils Ruin Records. It is a mark of quality. The album covers are state of the art. On the album cover of the first album "Chasing Locusts": a "pumpkin skull" in formal wear with an olive-green background. The album cover of "Chasing Locusts" is presumably designed by Reverend Marcus Eder. On the second album "How We Prospered": The band in cerements at a funeral photographed from the below of the grave. The cover of "How We Prospered" is designed by Reverend Marcus Eder. There is also a beautiful 60-page book "How We Prosper: Songs from the Book of Strawfoot" available on the Internet for free. I have uploaded the book here (opens in new window).
| | | | |
| --- | --- | --- | --- |
| | | | |
Below is a suggestion for a CD compilation.
| | | |
| --- | --- | --- |
| No | Song | Album |
| 1 | Wayfarin Stranger | Chasing Locusts |
| 2 | Cursed Neck | Chasing Locusts |
| 3 | Strawfoot Waltz | Chasing Locusts |
| 4 | Damnation Way | Chasing Locusts |
| 5 | Cloth | Chasing Locusts |
| 6 | Fiddle And The Jug | Chasing Locusts |
| 7 | Effigy | Chasing Locusts |
| 8 | Wayfarin Stranger | Chasing Locusts |
| 9 | More Of Dread | How We Prospered |
| 10 | Invisible Man | How We Prospered |
| 11 | Ramblin Man | How We Prospered |
| 12 | Hole | How We Prospered |
| 13 | Sinner's Lament | How We Prospered |
| 14 | Seven Ways | How We Prospered |
| 15 | Independence Day | How We Prospered |
| 16 | Churchyard Cough | How We Prospered |
| 17 | Funeral March | How We Prospered |
Best album: Chasing Locusts
Best songs: Wayfarin Stranger, Damnation Way, Effigy, More Of Dread, Ramblin Man, Sinner's Lament, Independence Day, Funeral March