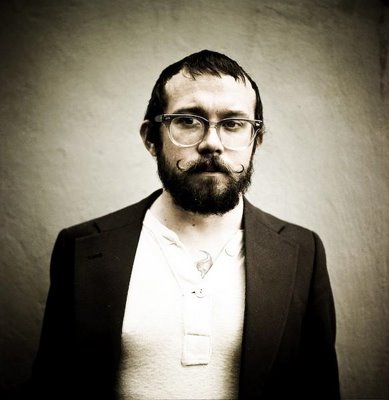 Reverend Glasseye (former known as Reverend Glasseye and His Wooden Legs) is a band from Boston, Massachusetts (later relocated to Austin, Texas). The band was formed in 2000. Frontman (and basically the whole concept) is Reverend Ignatius Glasseye a.k.a. Adam Beckley (vocals, banjo, mandolin, guitar and glockenspiel, etc.). Reverend Glasseye - what a spectacular name! "Reverend" can be found here and there in the genre, but "Glasseye" never occurs. The name emanates from a sobriquet. As a child, Adam Beckley underwent an eye operation and had for a period a google-like eye protection. He was, of course, mocked by other kids who called him "Glasseye" among others names. The "Glasseye" name somehow got stuck - with the important addition of the first name "Reverend". Reverend Glasseye has incidentally a license to marry and assist at baptisms and funerals. He bought the license on the Internet for an affordable price. You need to be an epidemiologist to keep track of all the lineups. Among others Timothy Maher, Richard Cuneo, Dennis Maher, Piet Masone, Jon Wobesky, Wendy Emerson, Paul Dilly, Ryan Rooney, Kevin Corzett, Cassandra Lomas, Barbara Arriaga, Randall Holt, Scott Hinman and Thom Washburn played in the band. In addition, Tom Hagerman, Paul Fonfara and Stevhen Iancu frequently appeared as guest musicians. Adam Beckley and Timothy Maher also played parallel in Slim Cessna's Auto Club (see also Munly & Lee Lewis Harlots) for a while. The last lineup - as far as I can assess – consists of Reverend Adam "Glasseye" Beckley, Barbara Arriaga (cello), Randall Holt (also cello), Scott Hinman (organ) and Thom Washburn (drums).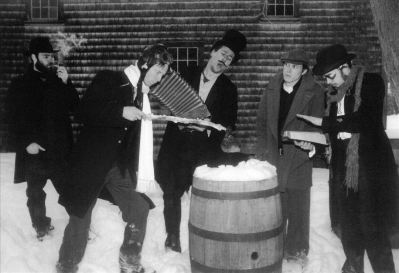 Their style can be labeled as "gothic americana", "weird-dark-cabaret-folk-circus-gospel-alt-country-rock", "dark salvation music" or "cabaret-vaudeville-punk-country". However, in an interview for the Boston Phoenix in 2005 Reverend Glasseye declares: "It is our goal at some point to defy categorization all together". Reverend Glasseye was known for their live performances and developed a cult-like following of well-dressed, flower-wielding people. And this was before social networking. But not all people within the "gothic country" community wielded with flowers. The main criticism was based on the opinion that the music goes too fast, was noisy and generally disruptive. Above all, the vocals was criticized for being nasal, high-pitched, theatrical and sometimes completely indistinguishable. Live, it is what it is. "A typical Reverend Glasseye show is typical only in that it's fairly atypical" stated Reverend Glasseye in an interview in 2003. Adam Beckley has a background in punk rock music, which may explain some of the criticism. There is a obvious risk that attitude sometimes overshadows the endowment. But I, personally, don't think the criticism is justified in any way. Reverend Glasseye is a very gifted songwriter with varying arrangements. The lyrics comprises of cautionary tales, superstition and human frailty. There are, of course, religious influences in the lyrics, but not at the fire and brimstone level that characterizes for example, 16 Horsepower. Here is an example of the lyrics from the title song "Black River Falls":
"The funeral was filled with grief
Her mother made not a sound
No one could hear her bite her fingers off
Buried alive underground."
Here is another example of the lyrics from the song "Gold Help You Dumb Boy":
"Dumb Boy of what are you made?
My eyes are lazy, my skin doth flake.
What good can you do?
Not so much as men like you.
Dumb Boy what do you see?
Lesser men coming down on me.
Tell us, what will you do?
I will let me axe come down on you."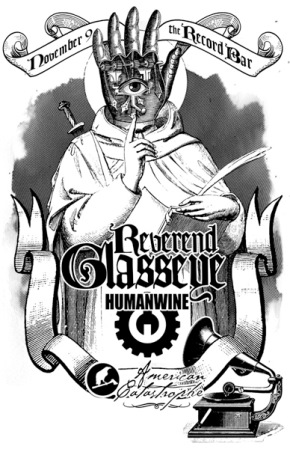 In 2005 Adam Beckley and Tim Maher relocated to Austin, Texas and put Reverend Glasseye on an indefinite hiatus. Under this period Adam Beckley wrote and recorded some music. In 2009 the band started up again with a new lineup. Adam Glasseye Beckley also wrote music in 2011 to the stage play Woyzeck written by Georg Büchner. He was obviously the right man for the job considering his creativity, originality, sharp perception and bitter lucidity. There were high hopes. However, Reverend Glasseye never fully recreated as a band again. In Adam Beckley's blog on August 4,, 2013: "I have decided it is time for Reverend Glasseye to officially end. This may or may not be surprising to hear, we haven't been particularly visible since the band migrated to Austin Texas, 8 years ago. If our life in Boston was based on community and performance and spectacle and our often exhausting attempt of global domination, Our life in Austin has been a much more introverted and profound collaboration. I had always hoped to show you all the band as it stood in Austin. In my opinion, it was a much deeper and quieter band. It was deeply personal and meaningful to me. It was music that helped me evolve. The downside to this was that while we continued to define a new sound for the band, Reverend Glasseye's momentum virtually ceased entirely and became next to impossible to rekindle. This is my own fault for not devoting enough time to visibility. In fact, I would say that most of the hurdles that Reverend Glasseye faced in its lifetime were caused by me. Back in the mid-oughts, when the band was doing extraordinarily well, it was my own abundant and needlessly existential neurosis that caused the band to stall out completely. As more people began to like the music we were making, I became more and more dissatisfied with it, and at that point I had a very hard time listening to the advice of others. This band has had some many amazing people perform with it, support it and believe in it, that I believe thanks are in order". And then a very long list follows. However, I believe Reverend Glasseye (Adam Beckley) was too talented for his own good. All the necessary conditions for fame and fortune (by "gothic country"-standards) were there (a clear aim with the project, creativity and the will and capacity to develop further, gifted songwriting etc.). However, Reverend Glasseye isn't the only example on bands that find themselves overtaken and outshined by less talented bands in the genre. Reverend Adam Glasseye seems to have been his own worst enemy and the initial success an obstacle for further success. Questioning about the choices that have made in the past and doubts about the musical direction in the future began to creep in with each new album. It's rather brutally illustrated by the career from celebrated in Boston to obscurity in Austin. Reverend Glasseye never got the rightful appreciation they deserved. The injustices in the "gothic country" genre are however numerous, extensive and outrageous. However, in my opinion, Reverend Glasseye is one of the most interesting and important bands in the whole "gothic country" genre. Forever and ever. However, Adam Glasseye and Barbara Arriaga are still active under the name Adam Glasseye and the Insect Fable.

Reverend Glasseye has released three albums "Black River Falls" (2001), "Happy End And Begin" (2004) and "Our Lady Of The Broken Spine" (2005). The album "Happy End And Begin" with its 22 minutes playing time is alternatively classified a CD or EP (CDS) depending on who is making the assessment. There also exists a rare demo-album "One Year Lost At Sea" only released in 50 copies (!) in 2009. In other articles I have highlighted the problem with cd-format, very small editions released on record labels that often no longer exist (or the re-release is zero), and the fact that I'm living approximately 5000 km away from the local market. I have never seen it physically or virtually. One should never give up when it comes to hard-to-find albums that you really "must have", but this is on the verge of impossible. But if you against all odds have a copy and want to sell it, please contact me. Reverend Glasseye have several times announced a digital release of the album. The album was at last released with a series of bonus tracks on October 5th 2014. You can buy the album here. There are plans (april 2015) of releasing the album in the vinyl format. In addition to these four releases there are two digital albums released on Bandcamp, "Reverend Glasseye" (2013) recorded in 2011 and "Insect Fable" (2013) recorded in 2005. They are both good albums and much better than you could expect. On these albums Reverend Glasseye has moved towards a more restrained and darker sound. But, it's the three first albums - released during their Boston period - which form the core of their production and are their claim to fame. "Black River Falls" has a rightful cult status in "gothic country" circles. The album is listed on almost every decent list of recommendations and is referred in discussion threads on online music forums. The album is released on CooCoo Birds Records, while the two latter are released on the Canada-based record company Music for Cats. The album covers are perfect. Just as a book's cover should indicate its content, an album cover should interact with the music. On the cover of "Black River Falls": a tintype photo of two white-dressed scary girls with candles in their hands. The album cover was designed by Cyan Puppy Design. On the cover of "Happy End And Begin": a young girl with a lamb in her lap, while a large eye watches over them and keeps track over two serpents. The album cover is adorned with an axe and a hack. Below, the band name is gracefully written. The album cover is designed by Abigail Karp. On the cover of the album "Our Lady Of The Broken Spine": a lady in a, to say the least, twisted position in a bleak forest with leafless trees. Jeff Lowe has made the painting. Indeed, all three albums covers are very "gothic country". Reverend Glasseye is represented with a song (Blood O'Lambs) on one (Rodentia I) of the four compilations with The Best Of Dark Roots from Devils Ruin Records. That is - as you know by now - a mark of quality. Below is a suggestion for a CD compilation.

Below is a suggestion for a CD compilation.
| | | |
| --- | --- | --- |
| No | Song | Album |
| 1 | Midnight Cabaret | Black River Falls |
| 2 | No Road Out Of Houston | Black River Falls |
| 3 | Blood O'Lambs | Black River Falls |
| 4 | Penitentiary Highball | Black River Falls |
| 5 | Seven Little Girls | Black River Falls |
| 6 | 3 Ton Chains | Black River Falls |
| 7 | Carnival Of Pills | Black River Falls |
| 8 | Black River Falls | Black River Falls |
| 9 | The World Is Not My Home Sir | Happy End And Begin |
| 10 | Sins Of Portsmouth | Happy End And Begin |
| 11 | Promenade | Our Lady Of The Broken Spine |
| 12 | God Help You Dumb Boy | Our Lady Of The Broken Spine |
| 13 | 17 Lashes | Our Lady Of The Broken Spine |
| 14 | Belle's Palsy | Our Lady Of The Broken Spine |
| 15 | Sleep Sweet Countrymen | Our Lady Of The Broken Spine |
| 16 | King Of Men | Our Lady Of The Broken Spine |
Best album: Black River Falls
Best songs: Midnight Cabaret, Penitentiary Highball, 3 Ton Chain, Carnival Of Pills, Black River Falls, The World Is Not My Home Sir, God Help You Dumb Boy, 17 Lashes, Sleep Sweet Countrymen