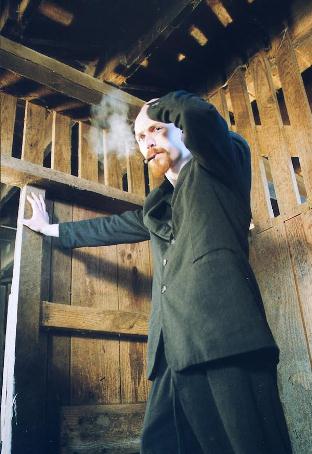 Antic Clay is an artist from Landlocked, Georgia, see website. Antic Clay is "dark americana" of the most exclusive brand. "Antic Clay" is the pseudonym of Michael Bradley and refers to a quote in the novel "Blood Meridian" by Corman McCarthy: "If war isn't holy, then man is nothing but antic clay". It's not unwise to use a stage name if your name is Michael Bradley and you are a musician in the United States. It's namely pretty hard to get noticed if you are the namesake of a famous basketball player. Michael Bradley is the former leader of the "Southern Gothic" band, Myssouri (which also is covered in an article). Undoubtedly, Myssouri is a very good band, but it's the solo works of Michael Bradley that stands out. In most cases, it's usually the other way around. Antic Clay has released one album: a double album "Hilarious Death Blues" (2007). It was recorded in a friend's studio in the mountains near Asheville, North Carolina. Antic Clay wrote and played almost everything on the album. The following statement can be found on the prestigious indie site cdbaby that distribute the album digitally: "A slow dark ride across the scorched hide of America. Think Johnny Cash riding a skeletal mule to Hell. Not without moments of beauty and hope, however." There's also an interpretation of Joy Division's "Decades" on the album. The version got an approval of my friend - the Joy Division connoisseur and arbiter of taste - who isn't exactly known for handing out overrated assessments on the website cdrunda or in any other situations.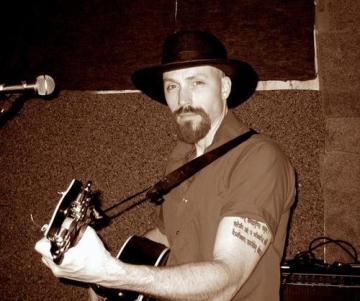 "Hilarious Death Blues" consists of two parts: "The Riderless Horse" (cd 1) and "The Horseless Rider" (cd 2). In any other context, I had probably written something semi-acidly like "pretentious concept album", but this time I'm almost speechless of admiration for the approach and the implementation. It's a masterpiece. The title also comes from "Blood Meridian" (the quote is from a scene in which American soldiers are massacred by Comanche Indians): "grotesque with daubings like a company of mounted clowns, death hilarious, all howling in a barbarous tongue and riding down upon them like a horde from a Hell more horrible yet than the brimstone land of Christian reckoning...". Antic Clay is 100 percent authentic. The songs are simply constructed with acoustic guitar and harmonica. It sounds like Nick Cave and David Eugene Edwards, but not quite as intense and electric. Antic Clay sings with a dark and beautiful voice and uses a lot of echo. The lyrics are excellent. No nonsense here. The lyrics deal with good and evil, various themes from the Bible and even a mining disaster. It's dark, minimalistic and restrained. On Stickfigure Recordings (distributor) Bandcamp-page it is declared: "Dark night in Nashville, here we come." And so it is. A very dark night, indeed. Although the album was hailed by no less than a medium-sized army of music critics and reviewers the album was no commercial success.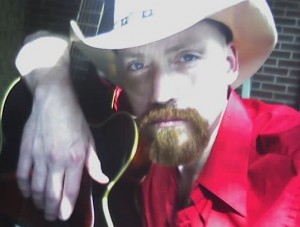 Antic Clay is on an indefinite hiatus since 2009. He returned to be just Michael Bradley despite the media competition from his namesake, the basketball player. He involved himself in a project called "Sinners and Songriders" and played covers of classic country songs. This unexpected "career move" (at least for me) was according to himself a logical step when his music became increasingly more soft and countryish. "Sinners and Songriders" seems to be a closed chapter. Michael Bradley has also worked with other artists, for example the "The Sweet Meat Love And Holy Cult"-collective which includes hordes of people in a big folk-psychedelic-concept project called "Mystagogue". An album was released. I bought it. Antic Clay is represented with no less than four songs on "Mystagogue". They are all good, but the rest of the album is, by any standards, pretty weird. Judging by the information on his website, he is struggling to make a living of his music. My own assessment is that his creativity was not exhausted in his masterpiece "Hilarious Death Blues" and there should be plenty more where that came from.
Hilarious Death Blues is, of course, out of print and very hard to find. And no mp3 for me, thank you. I wanted to have the original album complete with album cover and inlay. In other articles I have highlighted the problem with cd-format, very small editions released on record labels that often no longer exist (or the re-release is zero), and the fact that I'm living approximately 5000 km away from the local market. The strategies and approaches are different depending on the situation. In this case, I emailed Michael Bradley and asked if he by any chance had a copy left. In a friendly answer, he wrote: "Because Hilarious Death Blues is hand-assembled, it takes me a while to get them back in stock." Michael Bradley thereafter made three copies and put them up for sale on CD Baby. $16 for a double cd is as bargain! It fits very well in my record shelves. When you look closely at the product, you understand that it takes time to make one. It's an extremely stylish and cohesive product. Fully unfolded, it consists of four sides (on side 1 and 4 there are booklets fitted into pockets. The physical discs are mounted on side 2 and 3). If you flip the album around, you will find the text "...All horses were once riderless and will be so again..." (side 1) and "...Through the trees, trough the flames, through the playgrounds of the plagues..." (side 4). And the back cover of side 2 is the back cover of the album and includes a list of songs and the back cover of side 3 is the front cover. Get it? If not, look at the pictures below.

One should never give up when it comes to hard-to-find albums that you really "must have". Antic Clay's Hilarious Death Blues definitely belongs in this category. When it comes to CDs, I have been equipped with the patience that withstands a comparison with Job. But it is also important to have some luck. But there's no luck, without endurance and patience. The album cover is minimalistic: the name Antic Clay and the title "Hilarious Death Blues" in white against a black background. Very "gothic country", indeed.
Antic Clay is represented with a song (Red Grass, Black Pasture) on one (Rodentia I) of the four compilations with the Best of Dark Roots from Devils Ruin Records. As pointed out in several other articles it's a mark of quality. However, there is absolutely nothing wrong with this song, but I would probably have chosen a dozen songs before it.
Below is a suggestion for a CD compilation (all songs are solid).
| | | |
| --- | --- | --- |
| No | Song | Album |
| 1 | Clean Blues | Hilarious Death Blues |
| 2 | Broken Throat Blues | Hilarious Death Blues |
| 3 | The Table Of Souls | Hilarious Death Blues |
| 4 | Look Down The Dark Barrel | Hilarious Death Blues |
| 5 | Wainwright | Hilarious Death Blues |
| 6 | Violence Is Yours | Hilarious Death Blues |
| 7 | Islay And Ale | Hilarious Death Blues |
| 8 | On Holy Mountain | Hilarious Death Blues |
| 9 | Decades | Hilarious Death Blues |
| 10 | Thousand Star Hotel | Hilarious Death Blues |
| 11 | Filthy Lucre King | Hilarious Death Blues |
| 12 | Red Grass, Black Pasture | Hilarious Death Blues |
| 13 | Sago Mine | Hilarious Death Blues |
| 14 | Tithing Blues | Hilarious Death Blues |
| 15 | Non-Prophet Blues | Hilarious Death Blues |
| 16 | Furnace Song | Hilarious Death Blues |
| 17 | Hey John | Hilarious Death Blues |
| 18 | Wife And Widow | Hilarious Death Blues |
| 19 | Roll! Black Ocean! | Hilarious Death Blues |
| 20 | Estela | Hilarious Death Blues |
| 21 | Undrown Yourself | Hilarious Death Blues |
Best album: Hilarious Death Blues (naturally)
Best songs: Broken Throat Blues, The Table Of Souls, Look DownThe Dark Barrel, Decades, Thousand Star Hotel, Filthy Lucre King, Sago Mine, Hey John, Wife And Widow, Undrown Yourself
Epilogue
In October 2014 Michael Bradley sent me a link to an unreleased outtake from "Hilarious Death Blues", "Mechanically Separated Blues". In my opinion and without any doubt, the unreleased song meet the high quality standards of Antic Clay and the song could as well been included on the album. You can find the unreleased song here.

A follow-up album has been in the making since 2017, read more here (opens in a new window).