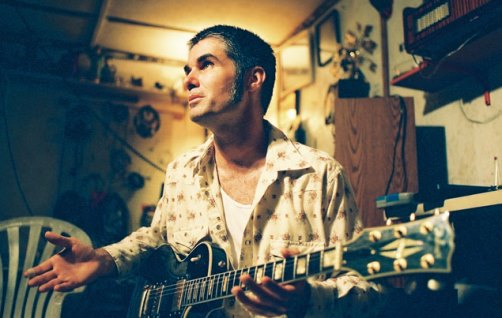 Jim White is an artist from Athens, Georgia (originally from Pensacola, Florida), see website. His real name is Michael Davis Pratt. Jim White is a combination of two friends Jim Krieg and Stephen White who incited him to focus on the music. The pseudonym was a way of handling a situation where the aim was not to be a public figure. Nowadays, no distinction is required, the identities are intertwined. The story behind Jim White is both unlikely and multifaceted. He grew up as youngest of five children in a military family. He grew up in Pensacola, Florida. In Pensacola there are more churches per capita than in any other place in America. However, the church also competed with drugs. In his youth he was a recreational drug user, but was saved by Assembly of God church (better known as the Brownsville Assembly). The Pentecostal church was not in to sermon, but instead laying on hands. Jim White stayed in the church for a couple of years. When he was 18 years old he was a promising surfer and was preparing for the upcoming US Surfing Championships when he broke his leg in a skateboard accident (he began to surf at the age of 12 and surfed in California for a few years and quit regularly surfing after a surf accident when he was 26 years old). He began with music when he was recovering from his leg accident (bored to death and watching TV all the time). He found a guitar in the house and started to write his own songs (other songs were too difficult). After his leg healed he began to work in menial jobs including a factory that manufactured chaise lounges. However, he had an accident when using a band-saw. Three fingers on the left hand were badly damaged. He eventually learned to play with two fingers and turned the limitation in to an asset. He continued to write songs and play them for his friends for a while. They didn't like them. His sister who was in the fashion industry persuaded him to come to New York. He began to work as a model. Shortly after he had begun modelling, he moved to Milan, Italy working as a runway and photo model. But, the demand is shifting quickly in the fashion industry and he returned to New York. He was very poor, eating of dumpsters and selling junk he found at garbage cans in flea markets. His sister convinced him to apply for New York University (film school) and he was accepted and also got a scholarship. Eventually he found a work driving NY cab full time (the Travis Bickle phase), which financed the studies. As a taxi driver in New York you're never left without source material. After graduating, however, he fell deeply into depression and even contemplated killing himself. As a way of getting out of the depression he started to write songs again. He had a dialogue with himself and writing songs helped, like a form of therapy. Jim White called it "the talking cure". A friend from film school encouraged him to record some of the songs. Six songs were home-recorded in the simplest way on an old Fostex four-track tape recorder with Jim White banging on things and singing through a sawn-off Pepsi-bottle to create some kind of megaphone effect. His friend played the tape for his girlfriend who passed it on to other people and eventually the tape was passed on to David Byrne (Talking Heads). Jim White was offered a record deal for six albums on Byrne's Luaka Bop label. Jim White was 40 years old and had never performed live for an audience (apart from singing a couple of times in the Pentecostal church which was an ordeal). What an unexpected and remarkable story. God works in mysterious ways!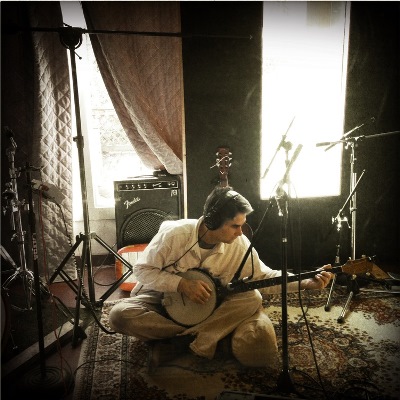 Nowadays, he's more comfortable (while he still doesn't like to tour) and very relaxed and laid-back in the interaction with his audience with small talk, telling anecdotes and sharing his own life experiences often in a very self-ironic way. But he's not only a musician, but also a Renaissance man who is a music producer, photographer, visual artist and author among other professions. He also wrote the score "Sounds of the Americans" for the theater production of Sam Shepherd's works staged by the Julliard Drama School. However, this article deals with Jim White as a musician. Sometimes you can read that an artist "moves effortlessly over genres." In nine cases out of ten this is not true. What this statement generally means is that the artist, at the most, fairly well manages to make an adroit guest appearance in other genres, but clearly only master one particular genre. Jim White, however, is one-of-the-ten cases. Jim White is ridiculously talented, brilliant and versatile. It's difficult to put labels on him or to categorize the style. Labels that are used are "southern gothic", "gothic americana", "dark americana" and "outer space alt-country". However, Jim White defies all categorization. The music is too strange and experimental to be categorized as country, and has too much twang in it to be categorized as indie. The music is based in americana, with lot of elements from rock'n roll, r&b and soul among other styles. In this article series you can read about people who really struggle to become a performer. However, Jim White didn't want to become a performer or a public figure. He thought he would be a musician by avocation, not by occupation. Jim White had fortunately a pragmatic view and after discussing pros and cons with a friend he reluctantly accepted the role as a performer. The main reason was that nobody else was going to play the songs and a lot of people have told him that the songs helped them in some way or at some stage. If he can make a living of the music it's even better. The demo songs on the tape were re-recorded on an album, "Wrong-Eyed Jesus (The Mysterious Tale of How I Shouted)". The album was critically acclaimed. The actual recordings took little time, but the editing required ten weeks and very many hours per day. On the album, the Christian imagery is combined with the Southern cultural heritage, that is, deep into the underbelly of the South. One of the songs on the album is "A Perfect Day to Chase Tornados". The song is about not only standing up and facing yours fears, but also denying their power over your life. Here is an example of the lyrics:

"Sometimes I think that the sky is a prison and the earth is a grave
And sometimes I feel like Jesus, in some Chinese opera
And sometimes I'm glad I built my mansion from crazy little stones
But sometimes I feel so goddamned trapped by everything that I know
And I wish it wasn't so, cause the only thing that anyone should ever know
Is that today's a perfect day to chase tornados
Yeah, when the wild wind whips around your head you know
That you have found a perfect day to chase tornados"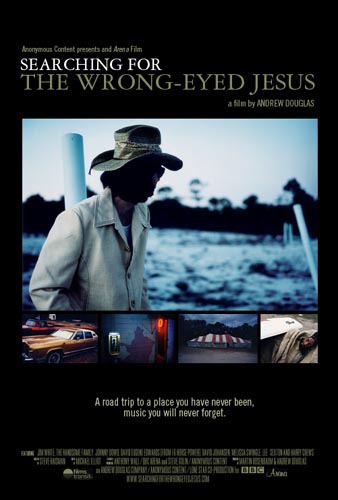 However, having a record deal with Luaka Bop didn't make Jim White a millionaire. He had very large debts and was struggling to support his family. The economic problem was solved eventually. To make the second album, "No Such Place" he worked 60-70 hours a week for a long time. He wrote seventy (70) songs for the album. And this is also how he works. In an interview for American Songwriter he explains: "So, I guess I was 18 when I started writing and I've probably written several thousand songs. About 18 of them are good. Most of them are terrible. I play some of the songs I've written – some of the ones I've thrown away – to people and they just kind of stare at me and say, "how do you write those other songs that are so good?" There are snipers and there are machine gunners. Snipers carefully take a breath and aim at the target and drop it in one shot. Then there are machine gunners who just close their eyes and start firing until the target disappears. I'm more of a machine gunner. I shoot it until it's gone." It's sometimes stated that genius is one percent inspiration and ninety-nine percent perspiration. Jim White declares it's all about work. He doesn't generally write any songs in between albums. In the interview he states: "You come up with a basic template – like with me it's verse, prechorus, chorus, verse, prechorus, chorus, bridge, verse, chorus, out. That's a standard template that I use. Then from there, it's just little accents and chord voicings. I don't think you have to be a musical genius to write your own songs. You just have to be determined and resourceful." At the same time Jim White is a perfectionist. In the above-mentioned interview he talks about the song "Static on the Radio" on the third album. "It took me years to write. I literally worked 8-10 hours a day for months at a time for 5 years and then I quit. Then, I'd go back and I'd quit then I'd go back. I probably spent thousands of hours trying to write that damn song, because I knew what I wanted to say but I just couldn't find the way to say it. I remember there were days where I'd just remove the word "the" from the third line or fourth line and move it back and go, "which is better?" But in the end, people tell me that's a moving song to them. So it was worth the effort if it helps people somehow." This is what I call dedication. Jim White has also participated as a narrator and guide in the BBC film by Andrew Douglas Searching For The Wrong Eyed Jesus, an award-winning road-movie exploring Southern culture through its music and stories. Jim White drove around in a worn-out 1970 Chevrolet with a sculpture of Jesus sticking out of the trunk. In the film you also learn that the Gaffa-tape that is used to cover rust holes on cars is called Alabama Chrome (Jim White has a song called "Alabama Chrome"). The film deals with Southern storytelling including death, drugs and crime. Of course, the film really pissed off some "Southophiles".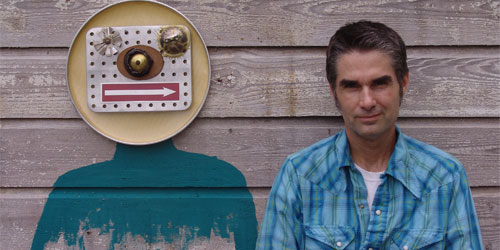 Jim White has released seven albums: "Wrong-Eyed Jesus (The Mysterious Tale of How I Shouted)" (1997), "No Such Place" (2001), "Drill A Hole In That Substrate And Tell Me What You See" (2004), "Transnormal Skiperoo" (2007), "Funny Little Cross To Bear" (EP 2008), "Where It Hits You" (2012), "Waffles Triangles & Jesus" (2017) and Misfit's Jubilee (2020). I have all albums except the latter. All albums are very good, but "Where It Hits You" is alas the weakest in the production, which is a bit worrying. The albums are extremely well-produced (but never over-produced). Jim White maintains a very high quality and you will always find new details in his varied music and in his exquisite lyrics. His music doesn't require a particular mood. You can listen to his albums anytime and anywhere. The album covers are stylish. They fit perfectly to the music. There's a problem when you try to make a CD compilation of Jim White's songs. I have tried a couple of times and, of course, it's technically possible to insensible select some songs and put them together. But, it always ends in a minor disaster when you're listening to the compilation. The reason for this is partly that the songs are long (usually 5-6 minutes), and partly because the songs are contextualized in a very distinct way. You can clearly perceive when a song from a different album begins. I have included all albums on my iPod. There - in their full and correct context - they are made full justice. I don't claim to have solved the problem by making a 2 CD compilation, only to have reduced the obvious tensions in the compilation. You can also call it a cowardly solution. To my defense, I can inform you that the compilation does not totally fill up two cds (160 minutes). With that being said, see below for suggestions on a 2 CD compilation of Jim White. In other cases, I often claim the aesthetics of my compilations. Well, not this time. See the suggestion as an introduction to Jim White, nothing more.

Below is a suggestion for a 2 CD compilation.
| | | |
| --- | --- | --- |
| No | Song | Album |
| 1 | Book Of Angels | Wrong Eye Jesus (The Mysterious Tale of How I Shouted) |
| 2 | Burn The River Dry | Wrong Eye Jesus (The Mysterious Tale of How I Shouted) |
| 3 | Still Waters | Wrong Eye Jesus (The Mysterious Tale of How I Shouted) |
| 4 | Sleepy-Town | Wrong Eye Jesus (The Mysterious Tale of How I Shouted) |
| 5 | A Perfect Day To Chase Tornados | Wrong Eye Jesus (The Mysterious Tale of How I Shouted) |
| 6 | Stabbed In The Heart | Wrong Eye Jesus (The Mysterious Tale of How I Shouted) |
| 7 | The Road That Leads To Heaven | Wrong Eye Jesus (The Mysterious Tale of How I Shouted) |
| 8 | Corvair | No Such Place |
| 9 | The Wrong Kind Of Love | No Such Place |
| 10 | Christmas Day | No Such Place |
| 11 | Corvair (Reprise) | No Such Place |
| 12 | Static On The Radio | Drill a Hole in That Substrate and Tell Me What You See |
| 13 | Bluebird | Drill a Hole in That Substrate and Tell Me What You See |
| 14 | Combing My Hair In A Brand New Style | Drill a Hole in That Substrate and Tell Me What You See |
| 15 | That Girl From Brownsville Texas | Drill a Hole in That Substrate and Tell Me What You See |
| 16 | Borrowed Wings | Drill a Hole in That Substrate and Tell Me What You See |
| 17 | If Jesus Drove A Motor Home | Drill a Hole in That Substrate and Tell Me What You See |
| 18 | Alabama Chrome | Drill a Hole in That Substrate and Tell Me What You See |
| 19 | Stranger Candy | Funny Little Cross To Bear |
| 20 | Jailbird | Transnormal Skiperoo |
| 21 | Diamonds To Coal | Transnormal Skiperoo |
| 22 | Counting Numbers In The Air | Transnormal Skiperoo |
| 23 | Plywood Superman | Transnormal Skiperoo |
| 24 | Pieces Of Heaven | Transnormal Skiperoo |
| 25 | Chase The Dark Away | Where It Hits You |
Best album: Wrong-Eyed Jesus (The Mysterious Tale of How I Shouted) or Drill A Hole In That Substrate And Tell Me What You See (can't decide which is best)
Best songs: Still Waters, A Perfect Day To Chase Tornados, Christmas Day, Static On The Radio, Bluebird, Jailbird, Stranger Candy, Chase The Dark Away