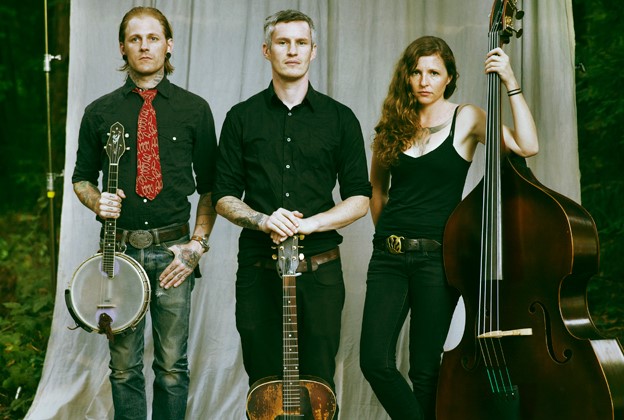 The Devil Makes Three (hence TDM3) is a band from Brattleboro, Vermont see website. However, the band was formed a very long way from Vermont, in Santa Cruz, California. Like several of their friends of the same age the future band members went to the West Coast (first to Olympia, Washington then to Santa Cruz, California and later relocated to Davis, California). TDM3 was formed in 2002 by Pete Bernhard (vocals and guitar), Cooper McBean (guitar and banjo) and Lucia Turino (upright bass). The first two grew up in the rural parts of southern Vermont, where there are "more cows than people" raised by a sort of hippie parents. Lucia Turino is originally from New Hampshire. They all met at high school in Vemont. The ties to Vermont are very strong. In 2010 Bernhard and Turino moved back to Vermont, while the McBean stayed in California (later moved to Austin, Texas). Cooper McBean has a highly visible tattoo, in capital letters with the name of the home state, across his neck. The Devil Makes Three is a spectacular band name. Like many other bands they had a hard time to come up with a name that everybody could agree upon. Lucia Turino's old roommate came up with the name. It's an excerpt from a nursery rhyme "You and me and the devil makes three". The choice of a name with the word "devil" in it was however not a way to seek attention. The name just seemed appropriate at the time. The founding members were all working at the same coffee shop in Santa Cruz, where they also played one of their first gigs. The owner of coffee shop was very supportive and basically sponsored the band and even equipped them with a converted van for touring. Initially there was a drummer, Boaz Vilozny. When he quit the band after about six months due to job, education and parenthood they decided not to have a drummer. Besides, it's easier to tour without drums. Bernhard, Cooper and Turino were impregnated by traditional american music at home. Bernhard and Cooper met already in junior high school and shared a common interest in folk, blues, country and bluegrass. They started out to play punk and rock and kept on playing after moving to California. In Santa Cruz, Lucia Turino joined the band. She had no earlier musical experience, but a understanding of rhythm due to being raised by parents who were dance teachers and from her own dance background. Bernhard and Cooper had rented a stand-up bass for the group. Turino learned to play upright bass to join the band and with hard work, dedication and endurance she worked her way into the band.

In March 2020 TDM3 wrote on their homepage: "Hey everyone, as some of you might know Lucia Turino has decided to take some time off of the road after long years of service to The Devil Makes Three. That said she is definitely welcome back with open arms at anytime if she would like to join us onstage. MorganEve Swain currently of The Huntress And Holder Of Hands and formerly of our old touring companions Brown Bird has joined us as bass player for our upcoming tours and we are overjoyed to have her out with us. Lucia will continue to work very closely with the band and you might see her out there on the road with us when her schedule allows."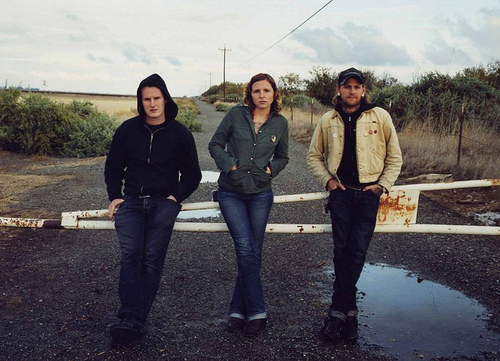 The music of TDM3 is simple and straightforward. Their sound is built upon guitar, banjo and upright bass. They are all talented musicians. Practice makes perfect. Despite the three-piece sparse instrumentation they manage to create twangy and catchy beats in a nice interplay with their lyrics, which are often full of irony and sarcasms and sometimes crititical to society. The songs will stick on your cerebral cortex. The music is both joyous and has a dark streak over it. The mission statement of TDM3 could be formulated as being an acoustic band, but to play like a rock band. This is not a contradiction in terms, on the contrary. Pete Bernhard is the main songwriter and writes most of the lyrics. Some of the songs and music are more collaborative. Bernhard and McBean shares the vocal responsibilities and they sing on the songs they have written. Lucia Turino writes her own vocal harmonies. They all sing together in beautiful harmonies. The lyrics deal to some extent with religious imagery, references and stories. The lyrics are often smart and witty "Till I found out that my brand new clothes/Came second hand from the rich kids next door" (Old Number Seven), "Just leanin' on my shovel in this graveyard of dreams" (Graveyard) and "If you're gonna do wrong, buddy, do wrong right" (Do Wrong Right). TDM3 has been labeled "bluegrass punk", "garage-y ragtime", "punkified blues", "old 'n' new timey", "raw folk", "punk-tinged Southern blues", "dark ragtime", "hillbilly beach bums", "Appalachian bluegrass", "punk-ass country", "bluegrass/blues/old-time/punk/Americana". The term "bluesgrass" is often used in connection with TDM3, but the band never get that association from other bluegrass musicians. But of course, its bluegrass - punk bluegrass - like .357 String Band, Highlonesome, Carrie Nation & the Speakeasy and Last False Hope among others but with a much more upbeat and melodic sound.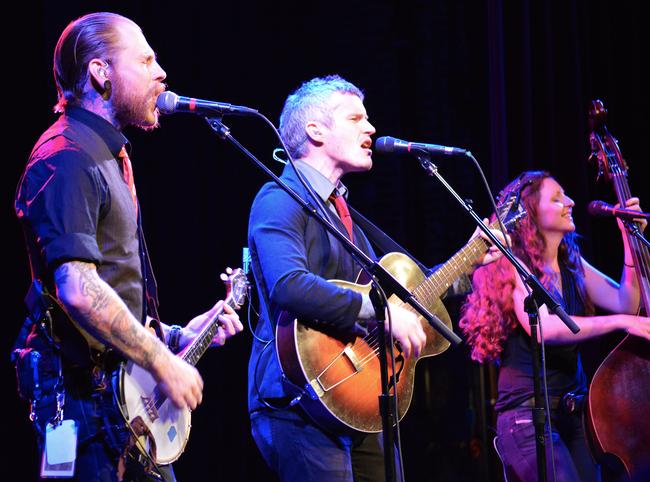 TDM3 are now full-time musicians and tour relentlessly. However, the road to be able to make a (small) living out of their music has not been easy and have included commitment and endurance. The band could as well write a "survivalist band guide book" based on their own experiences. Their advice is simple and wise. For example, it's not about revenue, it's about keeping your expenses to a minimum. Focus on your music, but don't have too high expectations. Play were you live (if you're not succeeding around home, you will not succeed where you are totally unknown). The road to recognition is a slow process and you have to widen your circles step by step. It's a mistake to put all your money into one album and expect everything to take-off from there. It's just destruction of capital, even if there are some obvious exceptions from this scenario. The hardest part for a band is getting along and keeping the band together in one piece. You also have to believe in what you are doing and don't giving up when people are not attending your shows. You have to come again, again and again to build a fan base. In my opinion, this requires a certain degree of self-criticism and judgment. It could very well be a good reason to why people don't like you. TDM3 have also managed to survive the hard structural changes that occurred in music industry the last couple of years. There are not much money in it anymore, but on the other you have much more control than before. The DIY ethos of TDM3 has resulted in that they can live on their music, but still maintaining a humble attitude: "Playing music for a living is a blessing and a curse, but for us there's no other option."

TDM3 has released six studio albums since 2002. With relentless touring there's not much time for undisturbed writing mode. The band writes new material in a rather slow pace. Some of the musical ideas are old but were for some reason not developed further at the time, until lyrics were put to them. The band strive to capture their raw live sound on their albums. But it's hard since not even live recordings truly capture live energy. In their production may also be mentioned two live albums "A Little Bit Faster And A Little Bit Worse (2006) and "Stomp And Smash" (2011). Their first self-titled album was released in 2002 (and re-released in 2007).The album cover art was made by Kai Smart. Their second album "Longjohns, Boots And A Belt" was released in 2003 (self-released). The album cover art was made by Craig Dransfield, Elise Dransfield, Paul Giovis and Abby Troxell. Their third album "Do Wrong Right" was released in 2009. The album cover art was made by Kai Smart. Their fourth album "I'm A Stranger Here" was released in 2013. The album cover art was made by Paul Moore. This album was produced by Buddy Miller. He is a Nashville heavyweight country musician and producer. Their fourth album is regarded as their best album. But not by me. The album is a clear departure from their punk bluegrass-style, which I think is a pity. The Buddy Miller production attracted much media attention. In my opinion, TDM3 are very self-reliant and expeienced in self-producing and they really don't need any Nashville celebrity to produce their albums. TDM3 will never be big in Nashville anyway, since Nashville is the mainstream country fortress of the world and beyond redemption. Their fifth album "Redemption & Ruin" was released in 2016. It contains a fantastic version of Hank Williams' song "The Angel of Death". Their sixth album "Chains Are Broken" was released in 2018. Their weakest album so far.
Below is a suggestion for a CD compilation.
| | | |
| --- | --- | --- |
| No | Song | Album |
| 1 | The Plank | The Devil Makes Three |
| 2 | Graveyard | The Devil Makes Three |
| 3 | Ten Feet Tall | The Devil Makes Three |
| 4 | Old Number Seven | The Devil Makes Three |
| 5 | The Bullet | The Devil Makes Three |
| 6 | Dynamite | The Devil Makes Three |
| 7 | Never Learn | Longjohns, Boots And A Belt |
| 8 | Man Tap | Longjohns, Boots And A Belt |
| 9 | Bangor Mash | Longjohns, Boots And A Belt |
| 10 | Tow | Longhjohns, Boots And A Belt |
| 11 | Black Irish | Longjohns, Boots And A Belt |
| 12 | River Deep | Longjohns, Boots And A Belt |
| 13 | Do Wrong Right | Do Wrong Right |
| 14 | Poison Trees | Do Wrong Right |
| 15 | Help Yourself | Do Wrong Right |
| 16 | Working Man's Blues | Do Wrong Right |
| 17 | Stranger | I'm A Stranger Here |
| 18 | Forty Days | I'm A Stranger Here |
| 19 | Goodbye Old Friend | I'm A Stranger Here |
Best album: The Devil Makes Three or Longjohns, Boots And A Belt (can't decide)
Best songs: Graveyard, Ten Feet Tall, Old Number Seven, The Bullet, Dynamite, Never Learn, Bangor Mash, Tow, River Deep, Poison Trees, Workin' Mans Blues, Stranger