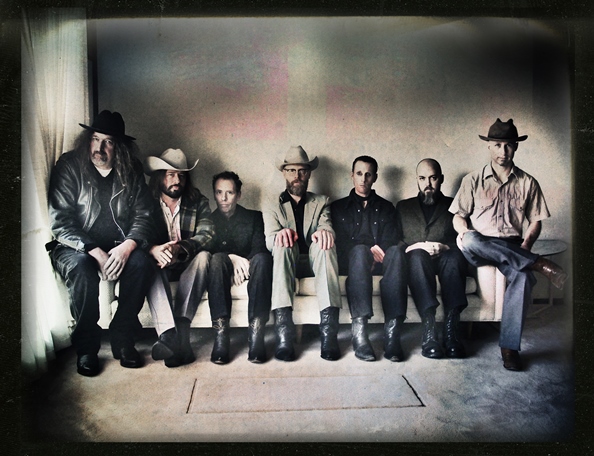 Slim Cessna's Auto Club (hence SCAC) is a band from Denver, Colorado see website. SCAC is one of the stalwarts of the so called "Denver sound" and claim a prominent place in this article series. Maybe this claim is so obvious, that I unconsciously overlooked them when making the order of priority. The band was formed in 1992 and is still active, which makes them an outlier in the harsh "gothic country" survival rate statistics. The ambition was to start a country band, but the band has always had strong elements of rock 'n' roll, bluegrass, gospel and folk, so it's more of included but not limited to country. The current lineup consists of Slim Cessna, Munly Munly (Jay Munly), Lord Dwight Pentacoast, Rebecca Vera, Andrew Warner and George Cessna. Cessna, Munly, Vera and Pentacoast are also involved in Denver Broncos UK. Munly is also active in other projects, see separate article here. It would be almost an insurmountable task to enumerate all band members, since almost every talented musician in Denver at some point and to a shorter or longer time have played in SCAC. It's such a high turnover that it's hard to capture the current line-up on a photo. The picture above is not the latest line-up. All in all, over twenty people have played in SCAC. To mention a few: John Rumley (Tarantella), Robert Ferbrache (Tarantella), Ordy Garrison (Wovenhand), Jon Killough, Shane Trost (Wovenhand, Tarantella), Whiff (Steve) Cessna, Caleb Roberts, Frank Hauser Jr. (The Denver Gentlemen), Gregory Garcia Jr. (Wovenhand), Judith Ann Winters (Blackstone Valley Singers), Tim Maher (Reverend Glasseye), Adam Beckley (Reverend Glasseye), and Chadzilla (Chad Johnson). As mentioned in other articles SCAC seems to be working as a Temporary Work Agency in the "gothic americana" industry. Musicians tend to go in and out of the band depending on their other commitments. This is not very common in the genre, where leaving a band often is definite and irrevocable. SCAC is a Denver band, but Slim Cessna moved to Rhode Island already in 2000 (and later to Pittsburgh), while Lord Dwight Pentacoast moved to Chicago (and later to Boston). This puts obvious restrictions on the band and demands special requirements in planning and logistics. Viewed in this perspective, the fact that SCAC is still active is nothing more than a small miracle, especially in this hard music genre. Slim Cessna's Auto Club is not the most gothic of band names. The name was chosen (or naturalized) without any deeper thought. The Slim Cessna part of the name is simple Slim Cessna himself. The "Auto Club" part refers to low rider clubs that were frequent in Denver at the time. Of course, no one in SCAC had any low riders, so it was basically a joke. The band name SCAC got stuck and have never been changed. Now it's a strong brand in the "gothic country" genre. And, "If it ain't broke, don't fix it".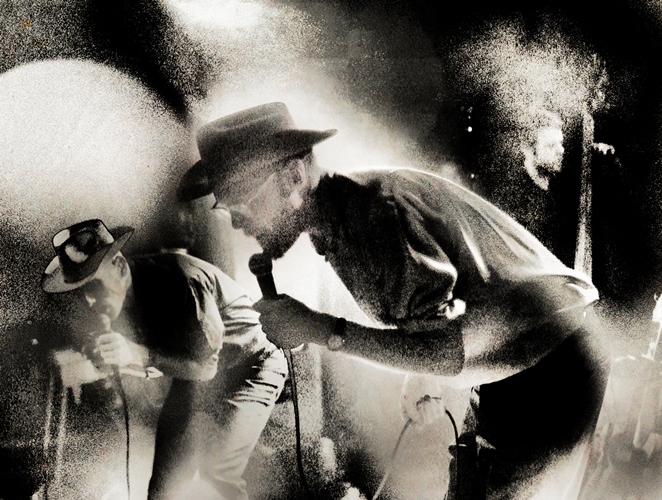 Cessna and Munly are the hub and creative force in SCAC, like yin and yang (that is, black and white). The two have charisma enough for a whole band. Normally, a "gothic country" band could only accommodate one Cessna or Munly, not Cessna and Munly (there wouldn't be enough oxygen to support them). However, they are close friends and this system works very well. Maybe this is also the key to why the band survived over the years. Slim Cessna grew up within a Baptist church, where his father was a preacher. It would make a good story if he also was a fire-and-brimstone preacher, but alas, he held his sermons in a controlled and factual manner. However, when you listen to the lyrics you will assume that he was a fire-and-brimstone preacher and passed it on to his son. Munly's background is at least as intriguing as Cessna's, see separate article. Cessna and Munly are both frontfigures in the band. However, the roles have changed over time, where Munly has taking a more active role in writing the lyrics. The lyrics are packed with religious imagery, references and stories. Add to this dysfunctional relationships, alcohol and death in various forms. Their sound is, how strange as it may seem, upbeat and catchy. However, this would not work if it weren't for their drastic humor, self-irony and checkered life experience. It's apocalyptic and funny at the same time, which is quite of an achievement, in this often very solemn genre. One fine example of this is "Lucifer, you piece of shit, I should kick your ass right where you sit" from the song "Last Song About Satan" or the song title "Jesus is in my body - My body has let me down". Cessna and Munly share the vocal responsibilities. Cessna has a fine high-lonesome voice, which he uses in a twangy way on the verge to yodeling (and sometimes also crosses this border). Munly, on the other hand, has a characteristic and attacking song-style, sounding both frantic and frenzy with guttural elements.

SCAC has been labeled "gothabilly", "punkabilly", "gothic western", "weird country", "country gospel", "southern gothic bluegrass", "gothic country", "cowpunk", "gothic americana", "dark roots" and "apocalyptic gospel". SCAC themselves simple call their style "American" and sometimes less is more. With time they have acquired a loyal, no to say fanatical, local fan base with the nickname "Cessnuts". SCAC is widely known for the rowdy live acts and regarded as the undoubtedly best live band in the genre. After all the years on stage they have some experience to fall back on. To my knowledge they haven't got a mission statement, but their record company owner at Alternative Tentacles have stated that: "This is the country band that plays the bar at the end of the world." This assessment is highly accurate and expositive. What's SCAC's claim to fame? First, they are all very proficient musicians. Second, their songs are filled with gifted songwriting, weird arrangements and hilarious lyrics. Thirdly, the tempo, intensity and fervor are hard to beat. SCAC is a well-known band by "gothic country" standards. SCAC has an obscurity level of 79,5 percent (which corresponds to famous by "gothic country" standards) according to the Obscurometer, see link. But if you engage yourself in some speculations; with a hard and merciless manager they would undoubtedly be more successful in economic terms. However, this route choice was made a long time ago by the band. SCAC has released six original albums in 25 years. This is not a startling high production rate. The explanation is quite simple. First, the members of SCAC have other commitments. Second, the key members are scattered geographically. Thirdly, touring has replaced album sales as primarily source of income. SCAC's touring are further not based upon whether they have released an album or not, at live gigs they play the songs of their choice, with the arrangements of the day. In many respects, the SCAC route defies all logic for how a band is supposed to act to obtain economic success. On the other hand, SCAC has full artistic control and do what they do and for this they have my deepest and unreserved respect.

As mentioned, SCAC has released six studio albums in 25 years (orthodox assessment of number of albums). It takes about three to four years to make an album, which is not slow considering the terms and conditions in this case. In the production these albums should be mentioned: "American Country Music Changed Her Life" (1998) a self-released and out of print live-album, "Crossbreeding Begins At Home" (2004) limited to 200 copies, "Buried Behind the Barn" (2010) with rarities and outtakes and "Jesus Let Me Down" (2005) a live album. In the production should also be mentioned "SCAC 102 An Introduction For Young And Old Europe" (2013) with re-recorded songs from previous albums. The five studio albums are very different. Their first self-titled and also self-released album is playful and ironic and was released in 1995 (re-released in 2001). The album cover art was made by Jon Killough. Their second album "Always Say Please And Thank You" is essentially a reference to Slim Cessna's upbringing in the Baptist community and was released in 2000. The album cover art was made by Rob Clayton. Their third album The Bloudy Tenent, Truth & Peace" is full of catchy "gothic americana" and was released in 2004. The album cover art was made by Victoria Cessna. Their fourth album "Cipher" is gothic and gloomy thematically built around four hymnal refrains entitled "An Introduction to the Power of Braces" divided in four sections (Arms, Legs, Teeth and Faith). The album cover art was made by Heather Reynolds (linocuts and lettering by Jon Killough). If you have time you can devote yourself to decrypt the cipher code in the album's artwork. The album was released in 2008. Their fifth studio album "Unentitled" (nice wordplay if may say so) is elusive and indefinable and was released in 2011. The album cover art was made by Heather Reynolds. The album cover is ambiguous, either a church engulfed by hell fire or a church defying the hell fire (depending on your Rorschach results). All albums have been engineered by Robert Ferbrache and released on Alternative Tentacles Records (better known for their hardcore punk albums). Their sixth studio album "The Commandments According To Slim Cessna's Auto Club" was released in 2016. The album was released on Scacunincorporated (their new and own label.
I've wavered between making a one or two CD compilation. At last, I decided to make a single CD compilation, which meant many hard choices. Below is a suggestion for a CD compilation.
| | | |
| --- | --- | --- |
| No | Song | Album |
| 1 | Hold On | Slim Cessna's Auto Club |
| 2 | Limon | Slim Cessna's Auto Club |
| 3 | My Goodness Me | Slim Cessna's Auto Club |
| 4 | Blindman | Slim Cessna's Auto Club |
| 5 | Last Song About Satan | Always Say Please And Thank You |
| 6 | Pine Box | Always Say Please And Thank You |
| 7 | Unto The Day | Always Say Please And Thank You |
| 8 | This Is How We Do Things In The Country | Bloudy Tenent, Truth & Peace |
| 9 | Thorny Crown | Bloudy Tenent, Truth & Peace |
| 10 | Cranston | Bloudy Tenent, Truth & Peace |
| 11 | Jackson's Hole | Bloudy Tenent, Truth & Peace |
| 12 | Shady Lane | Bloudy Tenent, Truth & Peace |
| 13 | Sour Patch Kids | Bloudy Tenent, Truth & Peace |
| 14 | Port Authority Band | Bloudy Tenent, Truth & Peace |
| 15 | This Land Is Our Land Redux | Cipher |
| 16 | Americadio | Cipher |
| 17 | The Fierce Cow Is Common Sense In A Country Dress | Cipher |
| 18 | Hallelujah Anyway | Unentitled |
Best album: Bloudy Tenent, Truth & Peace
Best songs: Hold On, My Goodness Me, Last Song About Satan, This Is How We Do Things In The Country, Thorny Crown, Cranston, Port Authority Band, This Land Is Our Land Redux, Hallelujah Anyway