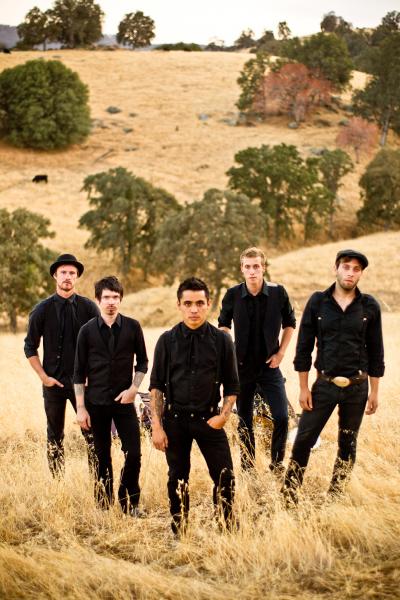 Briertone is a band from San Luis Obispo, California (locally nicknamed "BTone"). The band name Briertone gives me something to ponder about. Despite intense googling I'm left only with some linguistic theories. My best theory, so far, is that Briertone is a compound of the words "brier" (thorny plants) and "baritione" (the vocal range), which in turn is derived from the Greek word barýtonos (meaning deep or heavy sounding). Briertone was formed in 2002 by Adam Pasion and Taylor Odenwald. The last known line-up consisted of Adam Pasion (vocals, guitar, mandolin, fiddle), Matt Black (guitar, vocals), Elijah Merritt (banjo, keys, guitar, mandolin, vocals), Bobby Lucy (drums, vocals) and Robbie English (bass). Many musicians have passed through the band over the years (Lane Biermann, Roger Tompkins, Gabe Munoz, Chris Nielsen, Caleb Ralph, Kurtis Heck, Mike Newsom, Aaron Wick, Addison Francisco, Cory O'Keefe, Brandon Gatlin, Andrew Redel and Emily Wilson). Briertone has been steadily rooted in San Luis Obispo apart from a short period in 2006-2007, when they moved to Los Angeles with the aim to reach a wider audience. There's evidence to suggest that Briertone is disbanded. The path to dissolution of the band began after the third album, when the band took a hiatus. The band then gathered again to record their fourth album. In the summer of 2012 the band entered a semi-hiatus, while the members focused on other musical or personal projects. After a very short period of activity in 2013, Briertone now seems to be disbanded once and for all. This article could end here, because this is everything I have been able to find out. I have tried to contact the band in several ways for this article, but haven't got any response. I will try to make something of nothing. Whether Briertone qualify for this article series is an open question. Some purists will emphasize that Briertone often are labeled "indie rock". And yes, there is a rock component in their music especially on their first album. Others will raise the legitimate question if Briertone really stand the test of "authenticity". Appearances can be deceptive, but they are overly sharped dressed in black (in sunny California). The "authenticity" test also relates to their music. The religious themes, imagery and references in album titles, on album covers and in their lyrics are almost stacked upon each other. However, Briertone have gone through the same thorough but non-transparent and non-traceable evaluation process as all other artists and bands in the article series. Briertone goes through the eye of the needle. However, they would probably be just an ordinary indie band, if it weren't for their guitar, banjo and mandolin. Briertone combine indie rock, Southern rock and bluegrass in a new and innovative way. The thing that makes them interesting is their dark and versatile style within the broad "gothic country" genre. Their sound have also become more and more country-like with each new album. Briertone label themselves "outlaw rock" (as opposed to outlaw country). However, self-labeling is an abomination and they are also misinformed. This is "gothic country" in the same vein as 16 Horsepower and Wovenhand. Briertone are also labeled "gritty western music" which is a pretty accurate term. It's sad that they didn't manage to remain active.

Briertone has released four albums, all of them EPs. This is very rare and I haven't found any reasonable or plausible explanation for this. But, according to unconfirmed information Briertone had the ambition to lock themselves up and compose a full-length album and further advance their country roots. However, this was in 2007 and to my knowledge nothing substantial came out of this. Their first three albums "Tumbleweed" (2003), "Confessions of the Wicked" (2004) and "Sojourners" (2006) were released on Something Sacred Recordings (a local record label that closed down a couple of years ago). Their motto was "death, life, music", which is a short but effective mission statement. Their fourth album "Sky's Torn Open" (2011) was self-released. Their album titles and covers are packed with religious imagery and references. On the inner sleeve of "Tumbleweed" there is a biblical quote: "The sorrows of death compassed me, and the pains of hell gat hold upon me: I found trouble and sorrow. Then called I upon the name of the Lord; O Lord, I beseech thee, deliver my soul." (Psalm 116:3-4). The second album "Confessions of the Wicked" also have biblical references "The sacrifice of the wicked is an abomination to the Lord: but the prayer of the upright is his delight". (Proverbs 15:8). The third album "Sojourners" seems to be a reference to the Christian ministry Sojourners based in Washington, DC who seeks to proclaim and practice the biblical call to integrate spiritual renewal and social justice. On the inner sleeve there is a biblical quote: Awake From Sleep! Arise From Dead! (Ephesians 5:14). The fourth album "Sky's Torn Open" also have biblical references. On the inner sleeve there is a quote from one of the songs on the album (Flaming Arrows): "I'm gonna tear your kingdom down. I'm gonna gonna knock off your crown.", which makes you think of the traditional song "Satan, Your Kingdom Must Come Down".
Below is a suggestion for a CD compilation.
| | | |
| --- | --- | --- |
| No | Song | Album |
| 1 | Slowly But Surely (acoustic) | Tumbleweed |
| 2 | Swallow Your Shame | Tumbleweed |
| 3 | Confessions Of The Wicked | Confessions Of The Wicked |
| 4 | First And Last | Confessions Of The Wicked |
| 5 | Pact With The Devil | Confessions Of The Wicked |
| 6 | Slowly But Surely | Confessions Of The Wicked |
| 7 | Rebel Kid | Confessions Of The Wicked |
| 8 | A Vile Thing | Confessions Of The Wicked |
| 9 | Cheers | Sojourners |
| 10 | Run Your Mouth | Sojourners |
| 11 | Behold (acoustic) | Sojourners |
| 12 | Strawfoot | Sojourners |
| 13 | Phillip & I | Sojourners |
| 14 | Pearls For Ashes | Sky's Torn Open |
| 15 | I Am Jacob | Sky's Torn Open |
| 16 | Flaming Arrows | Sky's Torn Open |
| 17 | Revelation | Sky's Torn Open |
| 18 | Behold | Sky's Torn Open |
Best album: Sojourners
Best songs: Swallow Your Shame, Slowly But Surely, Run Your Mouth, Strawfoot, Phillip & I, I Am Jacob, Revelation, Behold