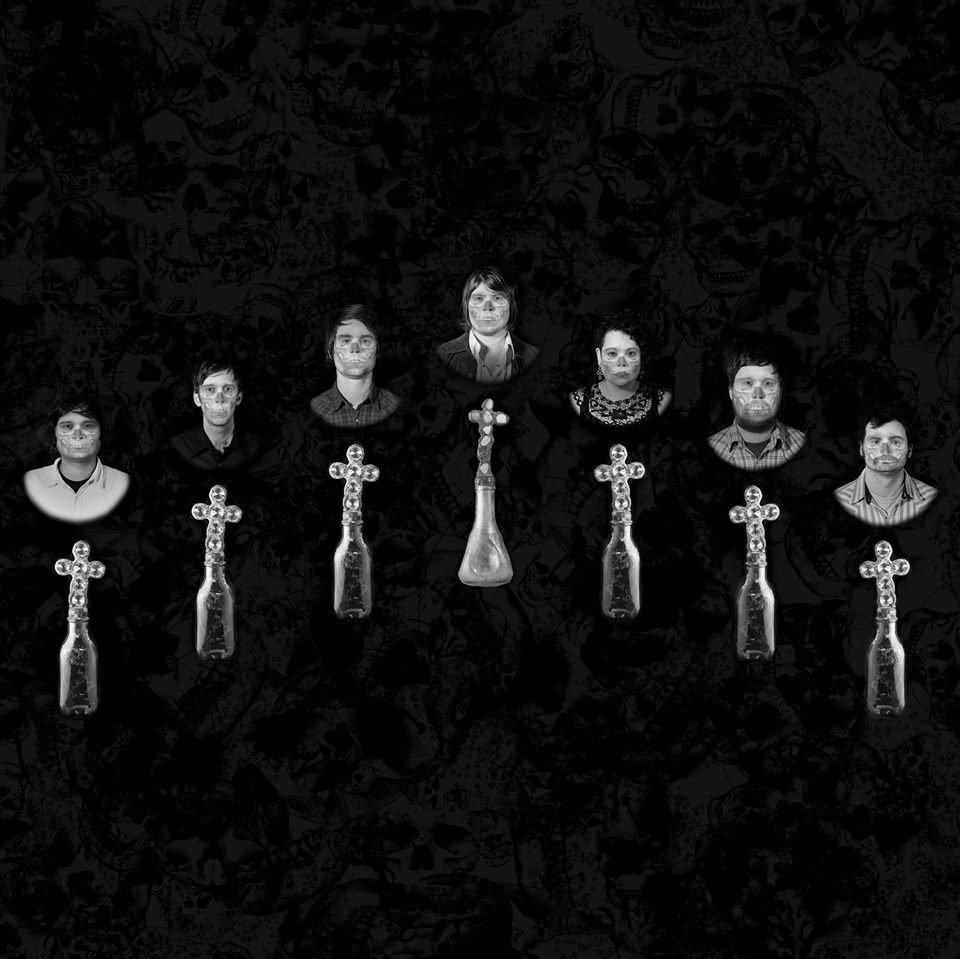 Federale is a band from Portland, Oregon. The band was formed in 2004 when a group of talented musicians decided to indulge their shared love of westerns. The line-up consists of Collin Hegna (guitar, keyboard, whistling, harmonica, flute, autoharp, theremin, percussion), Sebastian Bibb-Barrett (trumpet, percussion), Colin Sheridan (trumpet, keyboard, flute, sampler, percussion), Brian Gardiner (drums, percussion), Maria Karlin (vocals), Rick Pedrosa (pedal steel) and Nalin Silva (guitar). Former members of the band were Carl Werner (guitar), Dasa Kalstrom (percussion, timpani, melodica, sampler) and Dusty Dubvig (drums). I think I got it adequately right. It's not an easy task to figure out who is playing what and when in Federale. It doesn't get easier when the band can be as many as fourteen musicians (Federalistas) on stage. The band members of Federale have other musical committments. For example: Hegna plays in Brian Jonestown Massacre, Bibb-Barrett plays in The Builders and the Butchers, Sheridan plays in The High Violets, Gardiner and Karlin are professional classical musicians. Federale was created by bandleader Collin Hegna as an outlet to channel inspiration and to pay hommage to spagetti Western and Giallo soundtracks. Federale's music isn't a nod to Italian composer, orchestrator, conductor, and former trumpet player Ennio Morricone's music and director Sergio Leone's dusty movies. It's a deep bow all the way down to the ground. In fact, the band took their name from the film "Il Federale" from 1961, the first feature film scored by Ennio Morricone.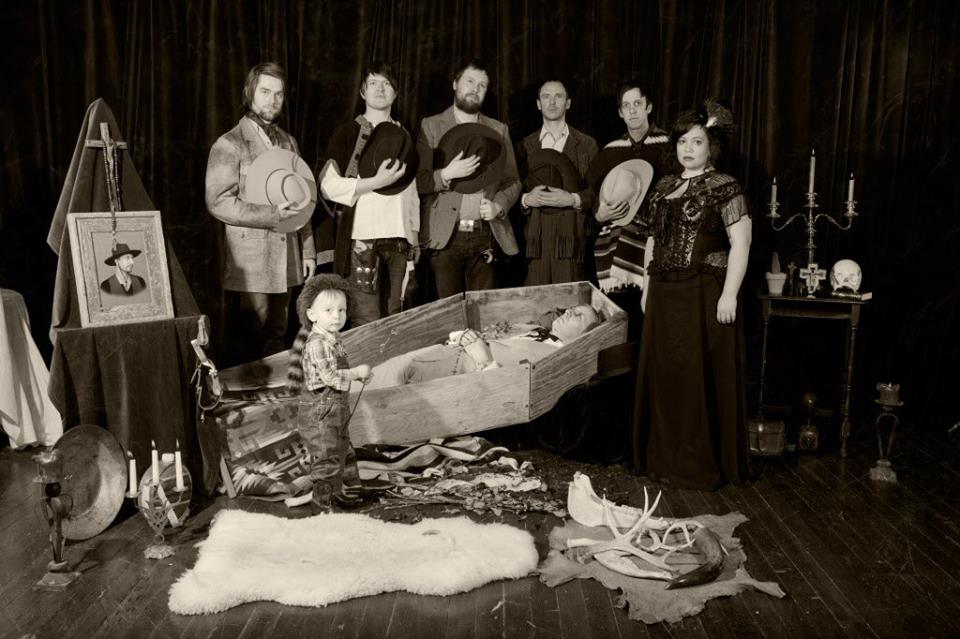 The first time I heard Federale I was fully convinced of that it was Ennio Morricone (which is the real thing). When I eventually accepted the correct circumstances, I suspected that they were just a novelty act. It would be the natural thing for them to sit back and play Ennio Morricone cover songs. But instead they write, record and perform original songs (inspired by the music of Ennio Morricone). And why on God's green earth have the decided to go through all this trouble? After all, the band takes a considerable risk of getting criticized for mannerism or, even worse, being mocked and ridiculed for their lack of independence. However, Federale has been scrutinized and passed through my quality assurance system. They go clear. I would like to give prominence to the following reasons. First, for their love of this kind of music. I'm a sucker for gothic western music myself. I would drape myself in wool full size poncho, vest, black pants, black stripped shirt and suspenders and a hat if it were socially acceptable. Second, this is an outlet from other musical projects. Obviously, it must be a huge outlet which makes it easier to go out on a limb. Third, they do it so well. Federale writes soundtracks to imaginary Western films. All the necessary and desirable attributes are there and in the right place. The band has a full-bodied soundscape with many instruments, care in details and entirety. They deserve our respect.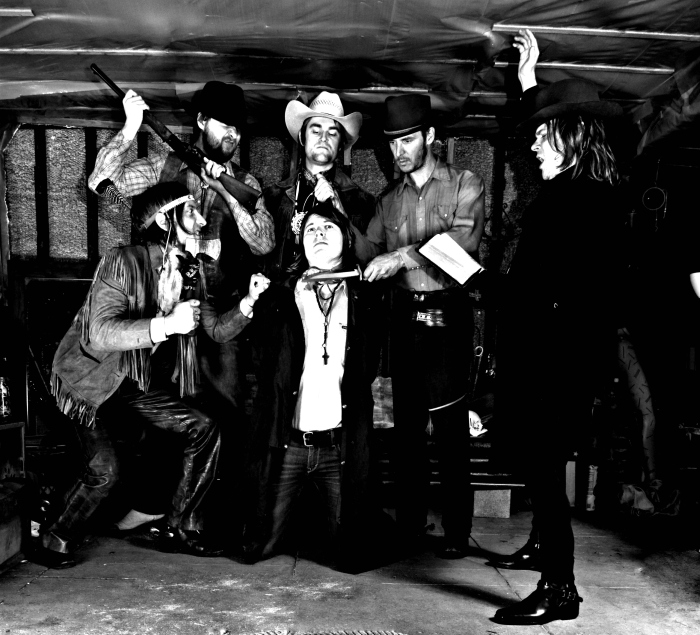 Federale can be labeled as "gothic western", "spagetti western", "Cinematic Western Folk Music" and last but not least "spagetti northwestern" (very witty). Their music is mainly instrumental (old-school spagetti), but besides mandatory choirs some vocal elements occurs, especially after the first two albums. Federale's music is cinematic and there's many references to European filmmakers (not only Sergio Leone). I get a vague suspicion of art school pretentiousness, but maybe I'm barking at the wrong tree here. There's not much happening in a spagetti western film. Writing lyrics is therefore a challenge and writing non-cliché lyrics is almost impossible when you try to re-capture the haunting, violent atmosphere evoked by the Western times. Despite the hipster take on the wild west, with cowboy hats and bolo ties, Federale relies heavily on technology when composing, creating a completely digital version of each piece in order to experiment with it. The two first albums were composed to fit a storyline. Story first, then music. However, the songwriting process has changed. Songs are still thematic, but are more loosely connected to a story from the third album and onwards. The band has expanded their repertoire and developed their sound in an attempt of forging their own trail with inventive melodies and lyrics. The primary change of focus was to include more vocals with lyrics. Another change was to move away from a guitar-focused arrangement and to bring in more strings, horns, pedal steel, autoharp, classical guitar, and such to create a more nuanced arrangement. I don't like nuances. On the contrary. When Federale are at their best they excel in soaring operatic female vocal tones, male choirs, cracking whips, whistling, rolling snare drums, trumpets, harmonicas, claves, reverb guitars, horns and strings. What I particular like about Federale is their grand scaled epical vision and making the final product match their vision. One fine quality of Western songs is that they are almost impossible to wear out. Their compositions are accurate enough to be mistaken for Morricone originals. And that can't be a bad thing.

Federale has released five full-length albums. Their debut album "La Rayar: A Tale of Revenge" was released in 2007. It's a classic tale of betrayal and vengeance. The album art was designed by Dasa Kalstrom, Kyle Morris and Sean Thommen. In 2018 it was re-released on vinyl to mark the 10th anniversary. The album has been updated from its original form in several ways (re-mixed, re-mastered and some tracks have even been re-recorded plus it also features re-imagined artwork). However, the vinyl fetishism doesn't interest me. I've been on the hunt for the cd version for some time now without any luck. Their second album "Devil In A Boot" was released in 2009. It centers on a small town terrorized by a railroad company baron's expansion and destruction. The album art was designed by Andrew Burr at Bland Design. The two first albums were released on Revolver Records. Their third album "The Blood Flood Like Wine" was released in 2012. It tells the supernatural tale of an evil so powerful that not even hell can hold back its wrath. The album art was created by Kyle Morris and designed by Ryan Overhauser. It was released on Federale Records. Their fourth album "All The Colours Of The Dark" was released in 2016. Murder, revenge, regret, power and corruption are the lyrical themes on this album. The title comes from a movie. "All The Colours Of The Dark" (Tutti i colori del buio) is a 1972 giallo film directed by Sergio Martino. The album art cover was created and designed by Ryan Overhauser. It was released on Death Waltz Originals. Their fifth album "No Justice" was released in 2019. In my opinion, by far their weakest album.
Below is a suggestion for a CD compilation.
| | | |
| --- | --- | --- |
| No | Song | Album |
| 1 | Santiago's Theme | La Rayar: A Tale Of Revenge |
| 2 | Journey North | La Rayar: A Tale Of Revenge |
| 3 | White Cloud | La Rayar: A Tale Of Revenge |
| 4 | Road To El Rey | La Rayar: A Tale Of Revenge |
| 5 | Road To Battle | La Rayar: A Tale Of Revenge |
| 6 | Vendetta | La Rayar: A Tale Of Revenge |
| 7 | Starvation Creek Trail | Devil In A Boot |
| 8 | Hero | Devil In A Boot |
| 9 | Rattlesnake Gulch | Devil In A Boot |
| 10 | Burial | Devil In A Boot |
| 11 | Requiem | Devil In A Boot |
| 12 | War Cry | Devil In A Boot |
| 13 | Reprise | Devil In A Boot |
| 14 | Juarez Wedding | The Blood Flowed Like Wine |
| 15 | Django | The Blood Flowed Like Wine |
| 16 | The Ascent | The Blood Flowed Like Wine |
| 17 | Tribe | The Blood Flowed Like Wine |
| 18 | Fine | The Blood Flowed Like Wine |
| 19 | All The Colours Of The Dark | All The Colours Of The Dark |
| 20 | Almeria | All The Colours Of The Dark |
| 21 | I Swore I'd Never Kill | All The Colours Of The Dark |
| 22 | Run, Man, Run | All The Colours Of The Dark |
| 23 | Changó | All The Colours Of The Dark |
Best album: Devil In A Boot
Best songs: Santiago's Theme, Journey North, Road To El Rey, Starvation Creek Trail, Hero, Requiem, War Cry, Django, Fine, I Swore I'd Never Kill, Changó