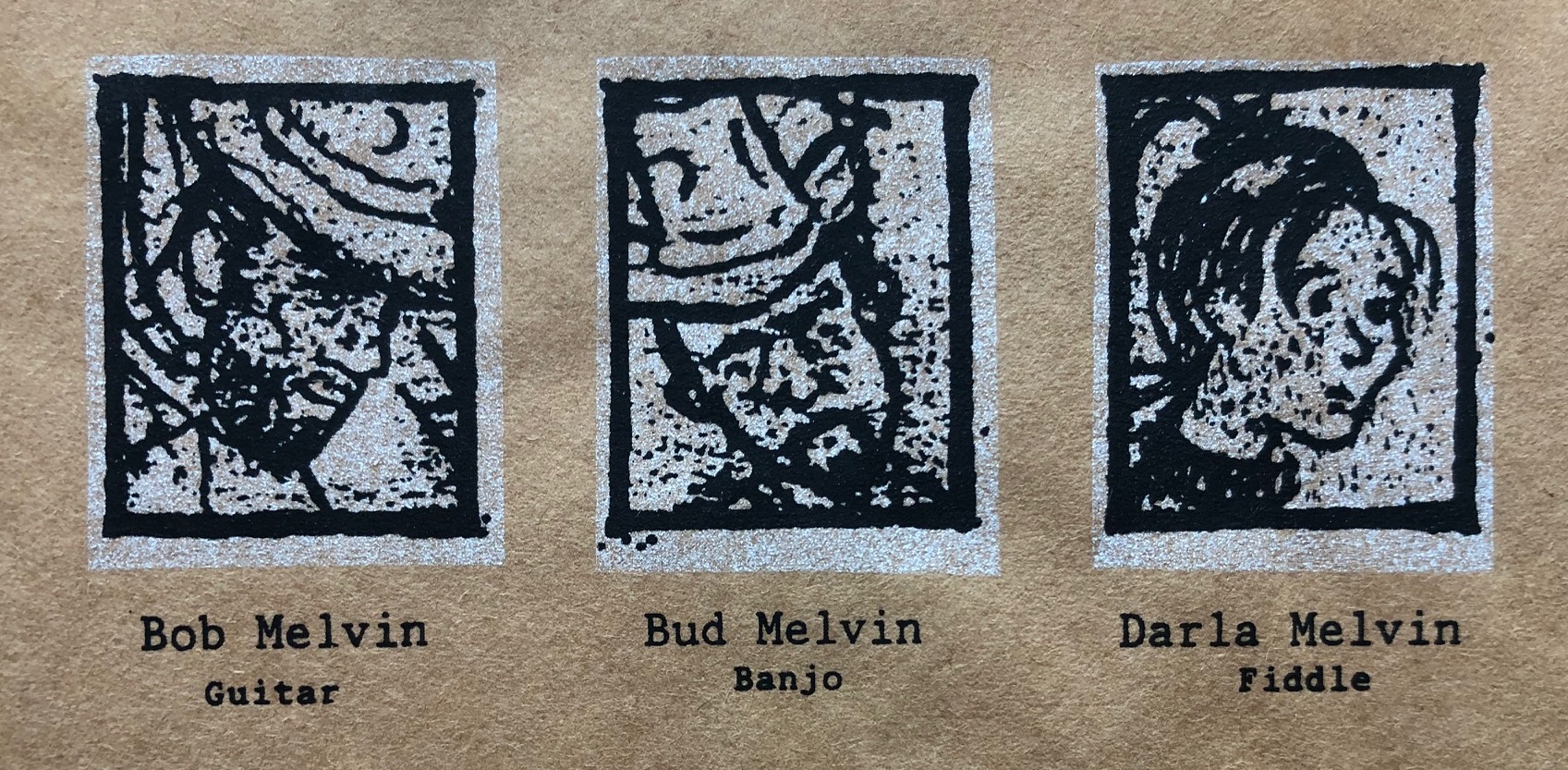 The Country Melvins was a family band from Chicago, Illinois. They have been described as the anti-Osmonds of family bands. The band has left very few digital tracks behind, which is quite of an achivement in our modern society. I'm pretty good at finding and extracting hard-to-find information, but in this case the level of difficulty is overwhelming. It almost seems like they have aimed to disappear into thin air and never existed. For example, there's no image of the band to be found. This is rare. Even the crappiest band has images of themselves somewhere on internet. In many cases, on a forgotten Myspace-page. The image on the right is the closest that I have come to a real image. It's a screenshot from the back of their self-titled debut album. Well, at least you get a general idea of how they might look like. The band was formed in 1995 by two brothers and a cousin; Bob Melvin (guitar and vocals), Bud Melvin (banjo) and Darla Melvin (fiddle). They were no Chicagoan urban hipsters. They came to Chicago from Stoney Creek, Tennessee. Before that, Bob and Bud Melvin originally moved to Tennessee from western New York. The move to Chicago changed the sound of the band, from more acoustic and orchestrated sound to more electric elements. The band didn't last very long, but it's not clear when or why they disbanded.

The Country Melvins should be filed under "gothic country", "gothic bluegrass", "goth-bluegrass" and "goth-grass" among other labels. In an article for The Daily Nebraskan in 1999 Darla Melvin explained how family togetherness was important for the band's music: "I think a part of what we do comes from the fact that we are from the same place. The family thing allows us to push the things we want and be as weird as we want." And yes, weird is the word.




Gothic country music is an acquired taste. An acquired taste is an appreciation for something unlikely to be enjoyed by a person who has not had substantial exposure to it. The Country Melvins demands sensitive and well-developed taste buds. Their, to say the least, hard-edged and old-timey take on country music and bluegrass isn't for everyone. In the aforementioned article Bob Melvin said that the band tends to scare people because of its idiosyncratic melding of old-school country and bluegrass sounds with a punk-rock tough mentality: "We tend to wipe out about 80 percent of the room". The 20 percent that stayed were more appreciating. They played locally in the Chicago area. Touring never led to popularity or success. It's a law of nature. You should play were you live (if you're not succeeding around home, you will not succeed where you are totally unknown). And as always, better a small but dedicated group of fans than an larger incomprehensible audience.

The Country Melvins are heavily inspired by Hank Williams and Johnny Cash. The band members grew up listening to real country. And that's also why the play "abrasive" yet "old American music". The Country Melvins has a distinct "Addams Family" vibe. What I particularly like about The Country Melvins is their dark banjo-driven songs, the haunting fiddling and dark baritone vocals. The songs are built upon simple chord progressions. The band is hard to categorize. They are weird, twangy and rural. Even within the open and liberal "altcountry" community the band doesn't fit in. Maybe, the community isn't so open and liberal after all. There are many epigones and poseurs out there. The Country Melvins are authentic and deserves a place in my prestigious article series. It's important to document the genre before everything falls into oblivion. I wish I had more information about the band. But, I have to be content with what I got.




The Country Melvins released two albums. The self-titled "The Country Melvins" (1997) and "Fourteen Psalms" (1998).

Below is a suggestion for a CD compilation. Well, all songs from the two albums are included.
| | | |
| --- | --- | --- |
| No | Song | Album |
| 1 | Messy Town | S/T |
| 2 | In The Pines | S/T |
| 3 | Streets Of The City | S/T |
| 4 | Cold | S/T |
| 5 | Johnny Mountain | S/T |
| 6 | Dead Man | S/T |
| 7 | Hard | S/T |
| 8 | Whiskey River | S/T |
| 9 | Noah's Lament | S/T |
| 10 | Audrey | S/T |
| 11 | Downside | S/T |
| 12 | Lonely | Fourteen Psalms |
| 13 | Train Song | Fourteen Psalms |
| 14 | Darla | Fourteen Psalms |
| 15 | Clementine | Fourteen Psalms |
| 16 | Gabrielle | Fourteen Psalms |
| 17 | Psalm Six | Fourteen Psalms |
| 18 | Jesus | Fourteen Psalms |
| 19 | Wretched | Fourteen Psalms |
| 20 | Bob | Fourteen Psalms |
| 21 | Happy Song | Fourteen Psalms |
| 22 | Lonesome | Fourteen Psalms |
| 23 | Hal Song | Fourteen Psalms |
| 24 | Bud | Fourteen Psalms |
| 25 | Zebulon's Dying | Fourteen Psalms |
Best album: S/T or Fourteen Psalms (can't decide).
Best songs: Messy Town, Cold, Whiskey River, Audrey, Downside, Lonely, Clementine, Wretched, Happy Song