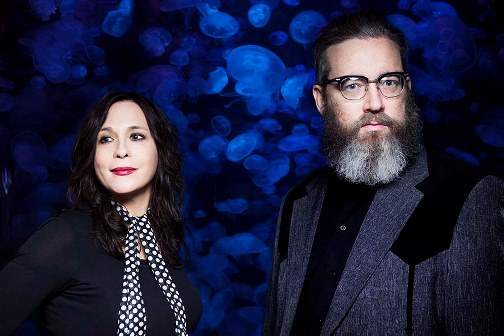 The Handsome Family (hence THF) is a band from Albuquerque, New Mexico (originally from Chicago, Illinois), see website. THF was formed in 1993 by husband-and-wife Brett (vocals, guitar, keyboards) and Rennie Sparks (bass, banjo, vocals) along with drummer Mike Werner. The band name is ambiguous. Their drummer used to accuse Brett and Rennie for not rocking hard enough (which is highly unnecessary since they clearly stated that they don't rock in any shape or form). He also used to call Brett "Handsome" for some unclear but obvious sarcastic reasons. The drummer wanted to name the band "The Handsome Family" and Brett and Rennie thought it was funny. The word "Family" reflects their relationship and also has a nice ring to it, in connection with old family groups like the Carter Family. They felt that they could be placed somewhere between the Carter Family and the Manson Family. Brett is originally from Odessa, Texas and Rennie is from Long Island, New York. They met at New York State University where he studied music history and she philosophy. According to some unconfirmed information he has also briefly worked around the oil rigs in Texas. They were married in 1988, when he was 25 and she was 23. Rennie is an educated fiction writer from the University of Michigan. Rennie is also an author and visual artist. They moved from Ann Arbour, Michigan to Chicago, Illinois in 1989 for work and because it was (back then) cheap to live there. However, it was first in 1993 they started to work together musically and write songs together. Brett had played in several independent bands and wanted to start a new band. However, he felt he had outgrown his earlier music styles and began to interest himself for traditional roots. Rennie didn't share his musical interest. But when Brett couldn't find a bass player she began to play. She used to rewrite his lyrics and eventually Brett persuaded Rennie to write the lyrics instead. It started off as an avocation on the weekends. At this time they both had day jobs. Brett worked as a fact-checker for an encyclopaedia (which became an early victim of internet). His next job was proofreading standardized school tests where Rennie already designed the layouts. Their employer was a bit shocked when they found out that Brett and Rennie played in a "gothic country" band on the side. Did they do other things besides constructing standardized school tests? Unthinkable for some people, obviously. Eventually they could quit their jobs (for a modest life style) and focus on their music. In 1995 they moved into long-abandoned loft-space which they shared with a giant cockroach named "Big Black" living in the bathroom. In 2001 they moved to Albuquerque, New Mexico where Brett had grown up. His brother Darrell also lived there. The break-up after 12 years in Chicago had many reasons: the cold, the lack of light and the traffic. And it started getting expensive to live in Chicago.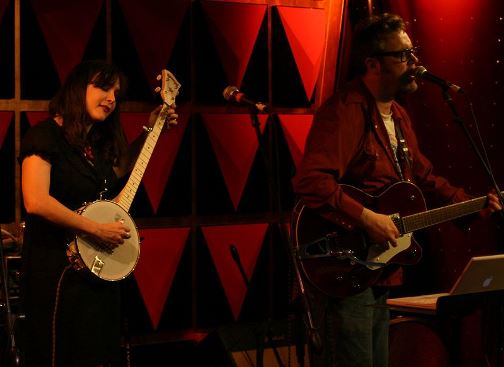 The Handsome Family clearly rejects the view that you have to live your songs before you can write them. They are pretty tired of self-centered songs like "me-me-me and my girlfriend left me, buh". THF has a very clear division of labor when it comes to the songwriting. For almost every band, the music comes first and then the lyrics. In this case it's the other way around. First, Rennie writes the lyrics. Then, she tells Brett what she wants him to do with them. After this, Brett will read the lyrics and begin to work with the music. Then there will be some arguing and both lyrical and musical revisions, but there's not a great deal of change. In my opinion, it's remarkable that this can work since it's much harder to write music to lyrics, than to write lyrics to music. The Handsome Family not only manages to do this, they do it absolutely seamlessly. The songs are fairly simple constructed with a standard verse-chorus-verse structure. THF prefers to stay home and write songs. Playing before an audience is also a pleasure. But touring and being away from home for long periods are perceived as less fun. Their recording procedure is time consuming. All albums have been recorded in their living room. Their garage in Albuquerque have been turned into a studio and created better recording possibilities. THF use very simple recording equipment (including a drum machine and a Mac). The fact that they play live with taped backup recordings have upset some authenticity fetishists. But, as always, it's all about money. THF would love to have a full band on tour, but they can't afford to hire musicians. Brett Sparks is keen to keep control of the production. First of all, he likes to do his own thing. Secondly, he sometimes gets too attached to the material and don't want anyone else to get control over it. THF got necessary time and the skills to work this way. And, "If it ain't broke, don't fix it".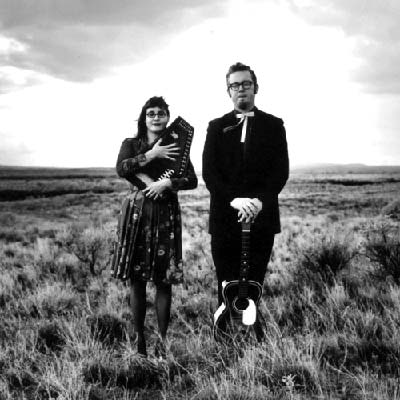 Working together as husband and wife is clearly not for everyone, but fits THF perfectly. There are no clear boundaries in their life. Private and professional roles are mixed up. For them it makes it easier because so many things are entwined. It works both ways: you can be open, straightforward and don't' need to restrain your criticisms, but on the other hand you're forced to reconcile at the end of the day after having a dispute over something. However, they clearly state that before trying this at home you should first be forced to write a song together, and secondly make a record and thirdly go on tour together. If you tick in all three boxes you can assume that you are a highly compatible couple. However, they do not only share the joys in life, they had also been through some difficult times together. They have both had a history of mental illness. After the second album Brett was hospitalized with the diagnosis of bipolar disorder. Their health have improved since the moved to the warmer and sunnier climes of Albuquerque, New Mexico. Medication has also helped them to remain both creative and married. Of course, they made a song about Brett's experiences. Here are the complete lyrics for "My Ghost":

"My ghost drives around with a bag of dead fish,
falling neutrinos drift through the trees.
He staggers and reels, runs up credit card bills
and clogs up the toilet with bottles of pills.
Here in the bipolar ward if you shower you get a gold star,
but I'm not going far till the Haldol kicks in-until then,
until then-I'm strapped to this fucking twin bed
and I won't get any cookies or tea
till I stop quoting Nietzsche and brush my teeth and comb my hair.
Days pass slow in slippers and robe, but my ghost still bangs on the roof
like John the Baptist in the rain while the nurses play Crazy Eights."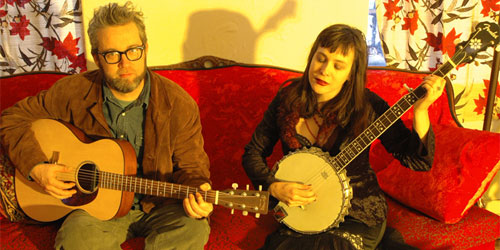 The Handsome Family is one of my absolute favorite bands. THF has many labels. One humoristic label is the "Addams Family of Gothic Country", where Brett and Rennie obviously would be Gomez and Rennie would be Morticia. THF takes this with calm serenity. They have been labeled both alt-country and traditionalist, but they have created their own style with murder ballads and cautionary tales, which are the most haunting songs released since Harry Smith's Anthology of American Folk Music. It's also safe to say that THF doesn't have traditional Christian beliefs. Other labels are "countryonica", "gothic americana", "dark americana" or just "gothic country". Rennie Sparks is multi-talented. She has written creepy short stories collected in a book "Evil", which is available on their website. When you look at the lyrics it clearly shows that Rennie is an educated writer. The storytelling and structure of texts are done in a professional manner. The music is timeless and placeless. In the lyrics, there's dark streak of American Gothic. The lyrics are dark, drastic and humorous often with an unexpected twist that effectively wraps it up. It's both beautiful and unsettling at the same time. With lyrics about bipolar wards, bottomless holes, the world's tallest man (Robert Ludlow), loco weed, Nikola Tesla's last days and glow worms the mood is set. But, it isn't all dark in the world of THF. It also love and hope. Some ignorant people put an equal sign between lyrics and the persons behind it. There are, as always, misconceptions and prejudices around the "gothic country" genre. Writing a murder ballad doesn't' mean that you also want to kill someone (or even worse, already have killed). The concept death in art has also a deeper and symbolic meaning than death in ordinary life. However, there's always a risk of moral panic. Not everybody understands that it's a fundamental difference between lyrics and real life. The lyrics are sung by Brett Sparks who has a dark baritone voice. Rennie plays beautiful bass lines and backs up in the choruses. The vocals are perfectly intertwined as in the song "Far From Any Road". Echoes, reverb and strings are profusely but diligently used. However, albums and live gigs may differ. I saw THF in a minimalistic gig in Stockholm May 2011, when it was just Brett and Rennie without any backing band. It worked very well, but the arrangements are quite different from the albums. Their favorite venue is the legendary 100 Club in London.

The Handsome Family has released nine studio albums and two albums with covers/outtakes plus live albums. On their first album "Odessa" (1994) the music was harder somewhere between punk rock and rock. On their second album "Milk and Scissors" (1996) the music had begun to change, but it wasn't really consistent yet. Their third album "Through the Trees" is a masterpiece. It's was critically acclaimed and it's on virtually every reputable list on best gothic country album ever. It's well-deserved. After "Through the Trees" THF released two very good albums "In the Air" (2000) and "Twillight" (2001). These three albums are often regarded as a trilogy in their production. Thereafter "Singing Bones" (2003) was released. The song "Far From Any Road" was recently selected as the theme song for HBO's 2014 crime drama True Detective by the show's music director, T-Bone Burnett. The album made them known to a much wider audience. In my opinion, on the latter albums "Last Days of Wonder" (2006), "Honey Moon" (2009), Wilderness (2013) and Unseen (2016) the quality has deteriorated somewhat. "Honey Moon" was made to celebrate their 20th wedding anniversary. The theme for the album is love, which was a clear break with tradition. Previous albums have a high body count, so to speak. Their most beautiful song "The Petrified Forest" is however on this album. "Last Days Of Wonder" is a reference to Cotton Mather (an influential preacher and author who played an important role in the witch trials in Salem 1698 in the decision to allow spectral evidence, that is, what the people who were considered victims of witchcraft saw in their visions, but that was invisible to other people). "Wilderness" is a loose concept album about nature, but there are several layer of dream-like surrealism in the lyrics. "Unseen" draws from real life events. The first song, "Gold", began when a bunch of twenty-dollar bills blew in Brett's face in a parking lot dust storm. There's absolutely nothing wrong with the last four albums, but unfortunately they are – in my opinion - the weakest in their production. This is, however, a relative and not an absolute assessment. They are solid albums.

Below is a suggestion for a 2-CD-compilation. I have wavered between making a one or two CDs. At first, I made a single CD compilation. It was really stripped down to the bare essentials. Probably too stripped. Then I decided to make a 2-cd compilation. Besides the above-mentioned ten studio albums, I have also assessed "Smothered and Covered" and "Scattered" and included a good cover of Leonard Cohen's "Famous Blue Raincoat". "Smothered and Covered" and "Scattered" was hard to get and I bought them directly from the THF's website and got a nice greeting from them at the same time. Buying through Amazon and the like is really unimaginative. Why not buy directly from the artist if it's possible? Nowadays, I try to do so when the opportunity arises.
| | | |
| --- | --- | --- |
| No | Song | Album |
| 1 | Weightless Again | Through The Trees |
| 2 | My Sister's Tiny Hands | Through The Trees |
| 3 | Down In The Ground | Through The Trees |
| 4 | Giant Of Illinois | Through The Trees |
| 5 | Woman Downstairs | Through The Trees |
| 6 | Bury Me Here | Through The Trees |
| 7 | My Ghost | Through The Trees |
| 8 | Poor, Poor Leonore | In The Air |
| 9 | When That Helicopter Come | In The Air |
| 10 | Lie Down | In The Air |
| 11 | My Beautiful Bride | In The Air |
| 12 | Passenger Pigeons | Twillight |
| 13 | Gravity | Twillight |
| 14 | White Dog | Twillight |
| 15 | Peace In The Valley Once Again | Twillight |
| 16 | Faraway Eyes | Smothered And Covered |
| 17 | The Forgotten Lake | Singing Bones |
| 18 | The Bottomless Hole | Singing Bones |
| 19 | Far From Any Road | Singing Bones |
| 20 | Fallen Peaches | Singing Bones |
| 21 | Whitehaven | Singing Bones |
| 22 | Tesla's Hotel Room | Last Days Of Wonder |
| 23 | White Lights | Last Days Of Wonder |
| 24 | Hunter Green | Last Days Of Wonder |
| 25 | Somewhere Else To Be | Last Days Of Wonder |
| 26 | Junebugs | Honey Moon |
| 27 | The Petrified Forest | Honey Moon |
| 28 | Famous Blue Raincoat | Scattered |
| 29 | Caterpillar | Wilderness |
| 30 | Glow Worm | Wilderness |
| 31 | Gold | Unseen |
Best album: Through The Trees
Best songs: Weightless Again, My Sister's Tiny Hands, The Giant of Illinois, Woman Downstairs, Bury Me Here, My Ghost, Lie Down, Far From Any Road, Whitehaven, The Petrified Forest, Glow Worm