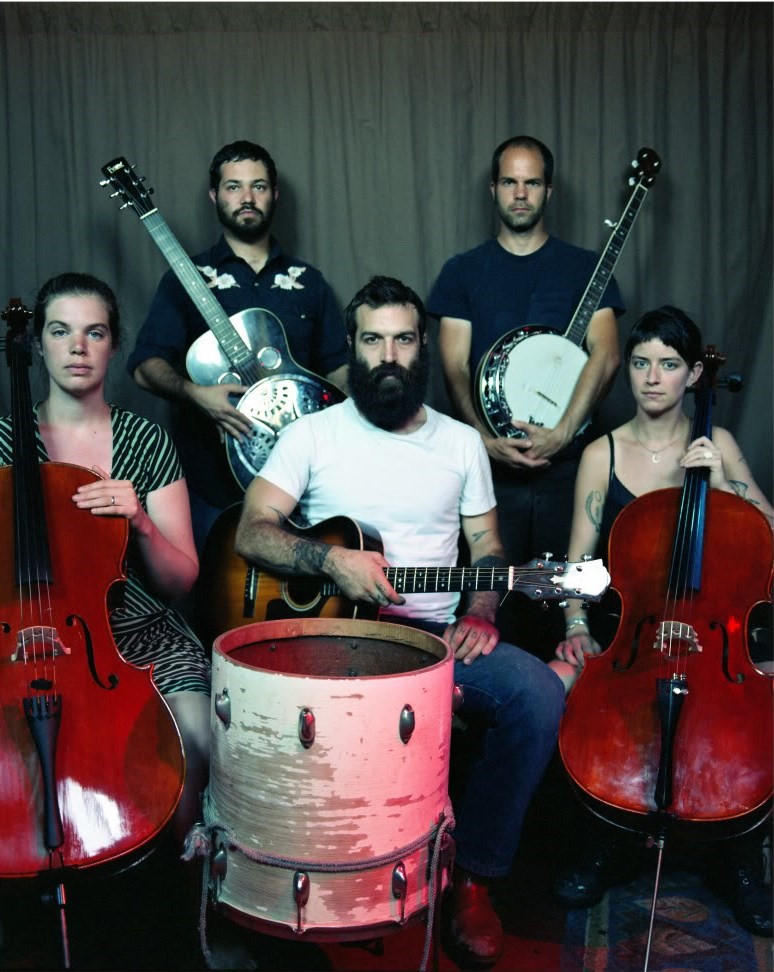 Brown Bird was a band from Warren, Rhode Island see their website here (opens in a new window). The band has also been based in Providence. Brown Bird disbanded in 2014 when founder David Lamb died of leukemia. Here's the story about Brown Bird. David Lamb (vocals, guitar and multiple instruments) was living in Portland, Maine but decided to move across the country to Seattle, Washington. The aim was to write songs. Lamb lived in Seattle over the winter 2002-2003. Brown Bird was formed there in 2003 with Lamb as the only member. The band name Brown Bird doesn't sound especially gothic. The story behind the name is very un-gothic. David Lamb had a dog. The dog was named "Bird". "Bird" was brown. End of story. David Lamb moved back to Portland in 2003 where the band was expanded with two old friends, Jerusha Robinson (cello) and her husband Jeremy Robinson (accordion and banjo). They self-released two albums. On a solo tour (the Robinsons were too busy to tour) in the summer of 2008, promoting their third album David Lamb met MorganEve Swain (fiddle and later cello, viola and bass) and Mike Samos (lap steel guitar and dobro), who played in the Providence-based band with the conspicuous name Barn Burning. The bands were touring together along the East Coast with their respective musical projects and did four shows together. However, Swain and Samos were soon added to the lineup of Brown Bird. The Robinsons left the band in 2009 to pursue their own musical project, South China, though they contributed on some songs on the forthcoming fourth album and played several shows around the time of its release. Mike Samos left the band in 2010 and Brown Bird became a duo in its final incarnation.
Lamb and Swain were already a dynamic duo in another sense. According to Swain "Four days after Dave and I met we became bandmates, lovers and business partners, and set the tone for what our life would be for the next six years." They were married in August 2013, during Lamb's leukemia treatment. Much attention has been directed to the untimely and tragic death of David Lamb. Almost all information on internet about Brown Bird deals with the battling of cancer and David Lamb's death. The sad story includes Components like diffuse symptoms, getting a wrong diagnose, getting worse, getting diagnosed with leukemia, emergency care, a combination of absence of health insurance, mounting hospital debts and loss of income from not being on tour, fund-raising to pay debts, three rounds of chemotherapy, bone-marrow transplant and dawning optimism, home recording of a new album which was going to be a victory album. After a sudden and aggressive relapse David Lamb lost the battle against leukemia. He died at the age of 36, leaving MorganEve Swain a widow at the age of 28. The death of David Lamb is, of course, very tragic. Unfortunately, the tragedy has obscured the musical legacy of Brown Bird. There's an overwhelming focus on the posthumous album, "Axis Mundi". A couple of weeks after David Lamb's passing, MorganEve Swain started to finish the album with the help of her brother Spencer Swain and engineer Seth Manchester according to what she and Lamb had discussed. "Axis Mundi" is often hailed as their magnum opus. Maybe this could be explained by the tragedy, since it makes the story even more tragic. However, I take some pride in brutal but honest consumer guidance. It may be hard to accept, but Axis Mundi isn't their best album. On the contrary, it's one of their weaker albums. In fact, the quality of their albums follows a nice bell-shaped (normal-distributed) form, which would have made the German mathematician Carl Friedrich Gauss very pleased. Brown Bird peaked with their fourth (The Devil Dancing) and fifth (Salt for Salt) album. These albums are, of course, also their most gothic albums. This doesn't detract Swain's contribution to Brown Bird. She was an important part of both albums. Actually, in this case 1+1=3.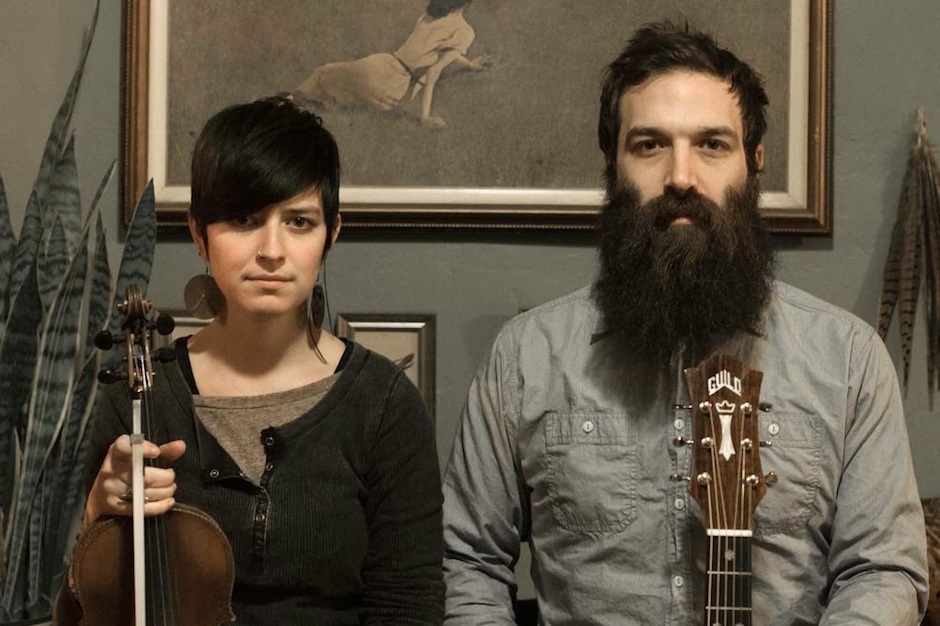 Brown Bird always insisted that they were "not a folk band". Resistance is futile. The label "folk" is omnipresent when it comes to Brown Bird. I label them as a "gothic folk" band. Other labels are "scrappy Americana", "country twang", "outlaw country", "eclectic folk", "Appalachian folk", "indie folk" and last and also worst "folk's tattooed troubadours". Terrible label, indeed. However, what's indisputable is that Brown Bird is a band that is influenced by American folk music, East-European music, blues, country and bluegrass. The term "genre-bending" is, for once, an accurate description. Haunting is another. You don't become a millionaire in the "gothic country" industry. It's more about survival than to actually make a living out of music. Before Lamb and Swain became full-time musicians in 2010 they worked as a marine mechanic at a shipyard and in a coffee shop. It's good to know that their musical career took off and that they could live on their music (of course, not as millionaires). Brown Bird has played with renowned acts like O'Death, The Devils Makes Three and Trampled by Turtles – a mark of quality if anything. They have also played at the Newport Folk Festival in 2011 and 2012 (and this year on its main stage). In an interview for Paradigm Magazine in 2012 David Lamb said "That business doesn't interest us at all. What we've always set out to do is fairly simple… we want to make the best music that we can. If we can maintain making a living doing just that, and as I said, hopefully move some people the way we've been moved by our favorite music, we'll have achieved the success we set out for."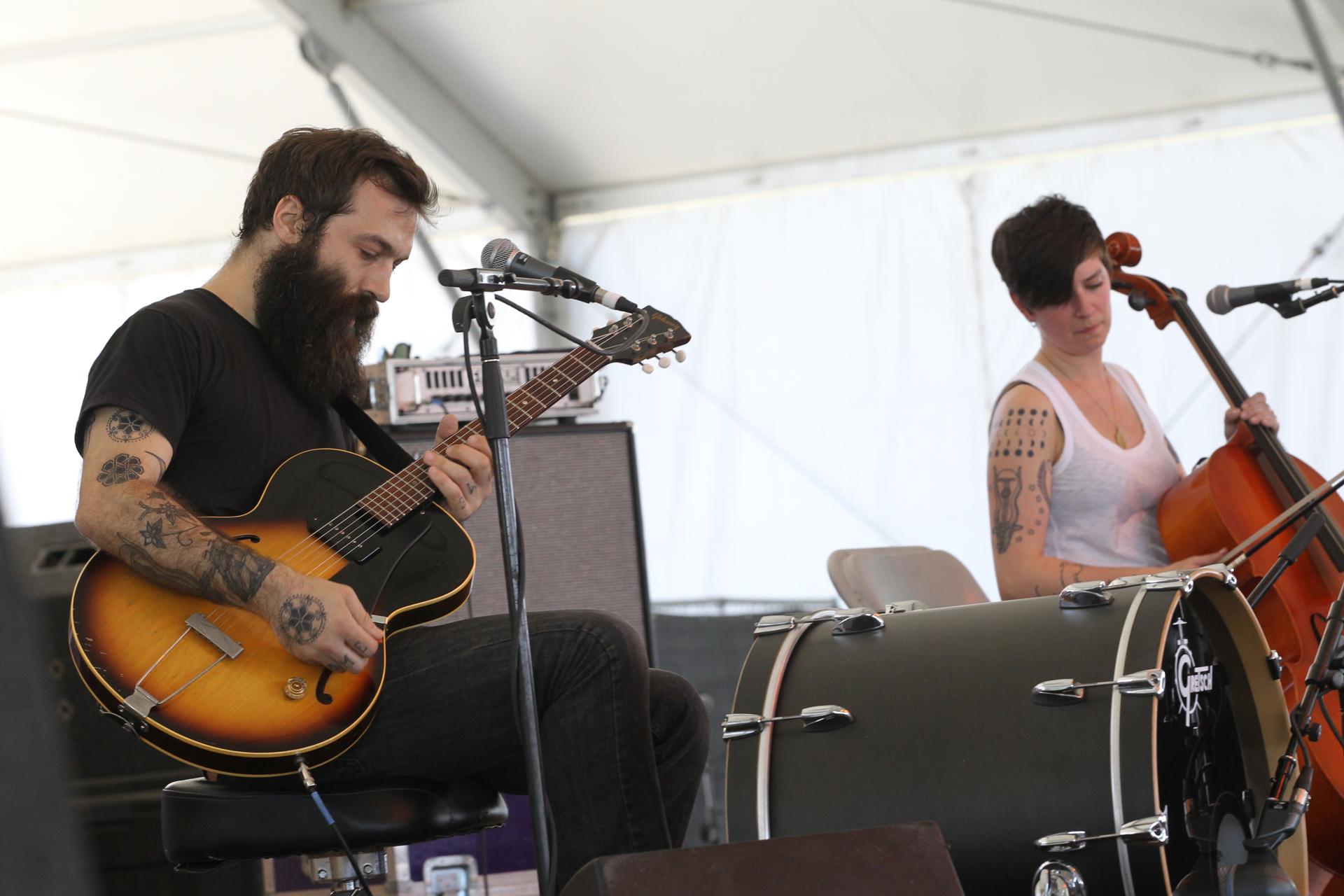 David Lamb grew up in a religious family. His father was a minister and the family moved almost every three years. He got used to seeing new places and meeting new people. In his upbringing, reading the Bible every day was a requirement. However, this didn't make him a true believer. Instead this reading lead to a seeker's mindset and he took interest in spirituality, religion, and philosophy throughout his life. The religious upbringing, naturally, rubbed off on the darker-than-dark lyrics. David Lamb played a sunburst Guild acoustic GAD-30R (the rosewood-backed version). MorganEve Swain was originally a fiddler. However, you can't build a band based upon a guitar and fiddle. When they became a duo in 2010 Swain started to learn how to play cello and bass, while Lamb started accompanying through a base drum. Necessity is the mother of invention. In an interview for the Globe in 2013 David Lamb describes how his songwriting process looks like: "I don't actually tend to work with lyrics first, when I'm writing — the music comes first and then the lyrics tend to follow on that wave. This experience might show itself in our music, but we're not going to be as direct and necessarily as obvious about it as people expect from Brown Bird. Maybe it'll come through metaphor or feeling the intensity of the music itself." Lamb and Swain sing together in euphonic harmonies. They were not afraid to cross boundaries. Their dark and beautiful voices complement each other. It's hard to recreate what you did in a studio when you play live. However, Lamb thought that most of the songs that you hear on an album are not far off from what you'll hear live. Occasionally they used special guests to help to recreate an album sound. Brown Bird did a very good job. The music of Brown Bird has a tendency to reach their audience on a deeper level and they created a strong fan-base.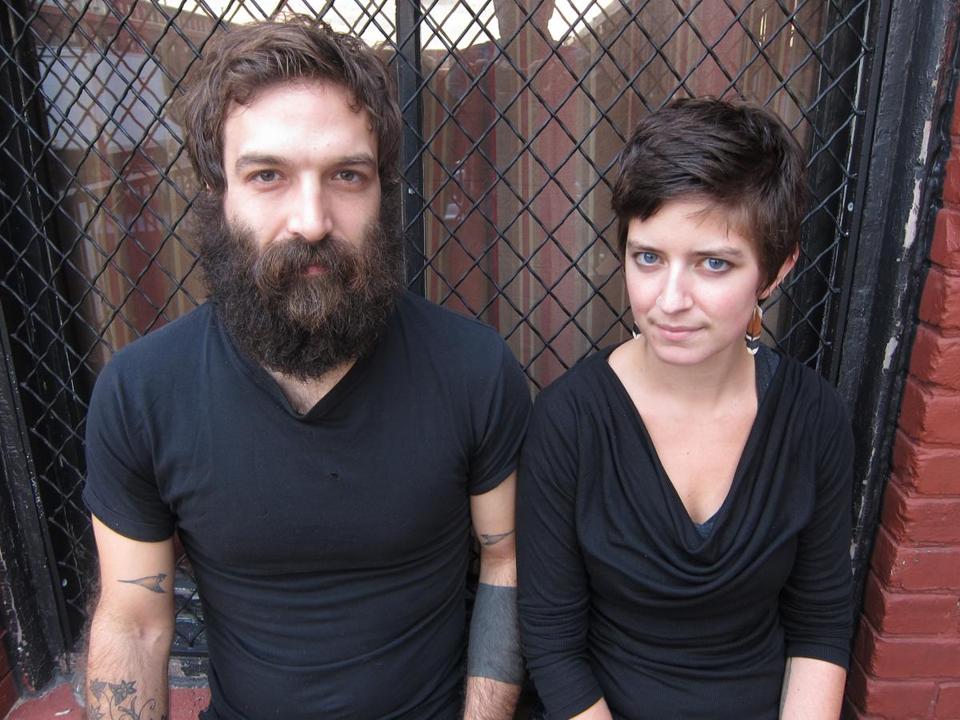 It's hard for an outspoken consumer adviser like myself to not be affected by the tragic death of David Lamb and the postlude. MorganEve Swain found that Dave Lamb had written down the words "Axis Mundi" in his lyric notebook and looked it up. It's where heaven and earth meet and connect. It became the title of the posthumous album. On the Brown Bird website she explained that, "Anything or anyone suspended on the axis becomes a repository for potential knowledge." The opening track, "Focus" has the following lines "Tethered to the cure / I focus on the pain / Transformation comes / Tempered by the flame / And if this flesh should fail / Devour me from within / May then my soul prevail / Free to roam again". This is both poetry and clear language in the same lines. MorganEve Swain decided to include a hidden track, "Avalon", which was a Christmas gift Dave Lamb once made for her. The song is only 45 seconds long, but really blows you away. David Lamb proclaims in the song to her "You're a huntress and a healer and a holder of hands; and your heart is the Avalon that I seek for my end." David Lamb died in April 2014. MorganEve Swain keeps on making music under the artist name "Huntress and the Holder of Hands". I received her EP "The Water Street Demos" when I ordered some other cds through their homepage.

Brown Bird has released seven full-length albums. I'm happy to announce that I got all of them in a physical format. Their debut album "Tautology" was released in 2007. It was recorded 2004/2005, but wasn't released until later. It's an extremely rare, self-released and handmade CD-R. The album artwork is stamped or silkscreened onto it, and the cover is also handmade with silkscreened artwork, titles and credits, likely made with a Gocco printing machine (considering the typical flaws). The cover art is ungothic – a fight desirous tiger. Their second album "Such Unrest" was released in 2007 (self-released). It's fairly easy to obtain. The reputable site cdbaby writes: "a landscape for songs of conflict, tension, beauty, and wandering". However, the cover art looks like a children's book and this isn't a good thing in the genre. The third album "The Bottom of the Sea" was released in 2008 on Peapod Recordings. The album art is very gothic: a windswept and deserted house somewhere in the middle of nowhere. The photography was taken by Mikael Kennedy. The fourth album "The Devil Dancing" was released in 2009 on Peapod Recordings. It's a masterpiece. It's also very coherent considering the circumstances. In an interview for Portland Press Herald in 2010 David Lamb explained: "We recorded "The Devil Dancing" in (essentially) two different groups of weekend sessions that were about three months apart. The first sessions were at Hogfarm Studios in Biddeford, and the second were at Ron Harrity's (of Peapod Recordings) studio in South Portland. The songs from the first session were songs I'd written a while ago; the songs from the second session were newer ones that I wrote after the first session was finished. A lot of the older songs had been originally arranged by myself and Jeremy and Jerusha, and were reworked to include Mike and MorganEve, while the newer ones were arranged by myself and Mike and MorganEve and were reworked to include Jeremy and Jerusha. Having members of the band in two different states was a little difficult, but it was great fun to get together with these particular musicians and hear things come together." The cover art was designed by William Schaff. The fifth album "Salt for Salt" was released in 2011 on Supply and Demand Music. It's their second best album, rare and expensive (at least the 2011 pressing). The cover art was designed by William Schaff. This is a great album cover. Their fourth and fifth albums really stand out. No less than eight respectively nine songs are listed on my compilation below. The sixth album "Fits of Reason" was released in 2013 on Supply and Demand Music. The album was among others inspired by the writings of Omar Khayyam, Christopher Hitchens and Plato. The artwork and layout was made by William Schaff. However, he stretched too far this time. The album cover was ranked as no 7 on my 10 worst album covers in the gothic country genre list. Read more here (opens in a new window). The seventh and posthumous album "Axis Mundi" was released in 2015 on Supply and Demand Music. The artwork and layout was made by William Schaff. Brown Bird has also released an important EP "The Sound of Ghosts" in 2011, limited to 500 copies, which I managed to lay my hands on. I got no 312. But, I don't expect their "European Tour Donation CD" (CD-R) to appear on the used cd market any day soon. It was sent to the people who helped to fund the Brown Bird European Tour 2010. The CD-R limited edition comes in a folded cardboard sleeve inside a clear plastic sleeve.
Below is a suggestion for a CD compilation.
| | | |
| --- | --- | --- |
| No | Song | Album |
| 1 | Some Boys' Scars | Tautology |
| 2 | Sorrow | Such Unrest |
| 3 | I Knew You Were Evil | The Bottom Of The Sea |
| 4 | Danger And Dread | The Devil Dancing |
| 5 | Muck And Mire | The Devil Dancing |
| 6 | Needy Generator | The Devil Dancing |
| 7 | Wrong Black Mare | The Devil Dancing |
| 8 | By The Reins | The Devil Dancing |
| 9 | Gallows | The Devil Dancing |
| 10 | Severed Soul | The Devil Dancing |
| 11 | Mabel Grey | The Devil Dancing |
| 12 | Fingers To The Bone | Salt For Salt |
| 13 | Chairkickers | Salt For Salt |
| 14 | Bilgewater | Salt For Salt |
| 15 | Blood Of Angels | Salt For Salt |
| 16 | Ebb & Flow | Salt For Salt |
| 17 | Come My Way | Salt For Salt |
| 18 | Thunder & Lightning | Salt For Salt |
| 19 | Nothing Left | Salt For Salt |
| 20 | Cast No Shadow | Salt For Salt |
| 21 | Caves | Fits Of Reason |
| 22 | Forest Of Fevers | Axis Mundi |
| 23 | Avalon | Axis Mundi |
Best album: The Devil Dancing
Best songs: Sorrow, I Know You Were Evil, Danger And Dread, Muck And Mire, Needy Generator, By The Reins, Gallows, Severed Soul, Mabel Grey, Fingers To The Bone, Chairkickers, Bilgewater, Ebb & Flow, Come My Way, Nothing Left, Avalon